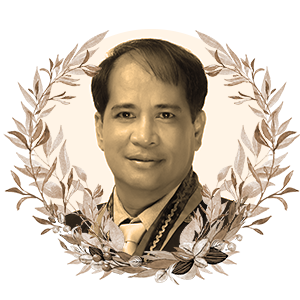 Outstanding architect, architectural conservation advocate, public servant, and and past UAP President
August 29, 1962 – October 24, 2020
GUILLERMO H. HISANCHA (1962-2020) was one of the most decorated and respected architects in the Philippines. As Principal Architect of GH Hisancha Architects Builders, he practiced architectural design, consultancy, design-build services, and project management. With artistic and architectural flair, he designed numerous residences, commercial buildings, government offices, and provincial and district hospitals.
Among his notable works were the La Carmela de Boracay Resort and Hotel, Department of Agriculture Regional Office VI, various government hospitals, and offices of the BIR and DILG in Iloilo, Aklan, Capiz, Antique, and Guimaras. His legacy on heritage conservation and preservation were the restoration and retrofit of Casa Real (the old Iloilo Provincial Capitol) and the adaptive reuse of Iloilo Provincial Jail into Western Visayas Regional Museum that have been finely transformed into evocative architectural structures in the redeveloped Iloilo Capitol Ground Complex.
He was twice elected as National President of the United Architects of the Philippines. Under his leadership, UAP garnered PRC's Most Outstanding Professional Organization of the Year Award in 2017 and 2018 and the Outstanding Accredited Professional Organization Award by the Construction Industry Association of the Philippines under the Department of Trade and Industry in 2017. Prior to his presidency, he had served the UAP in various capacities and received several citations for his performance of duties.
He was a member of the ASEAN Architects and APEC Architects. Elevated to the UAP College of Fellows, he was conferred the title, Fellow, one of the highest titles and distinctions given to a Filipino architect, for his outstanding achievements in architecture, notable contributions towards the advancement and uplift of the profession, and remarkable performances in public service bringing prestige and honor to the profession and organization. He was conferred Doctor Fellow of the Royal Institution of Architects – Singapore. He represented the UAP to the Architects Regional Council Asia and the Union Internationale des Architectes.
He was thrice elected as Vice Mayor of Pavia, Iloilo and twice as Councilor; wherein he was conferred various awards and citations for his government and public service. He was cited as the Most Outstanding Pavianhon in the field of architecture. He was recognized by his high school as the Most Outstanding Alumni in architecture during its Grand Alumni Homecoming and by his university with the Alumni Achievement Award in science and technology during its 110th Year Anniversary.
He served as the President of the University of San Agustin Architecture Alumni Association.
Hisancha was born on 29 August 1962 at Pavia, Iloilo. He was a Valedictorian at Pandac Elementary School. He was a recipient of Paul Valencia Scholarship and graduated Sixth Honorable Mention at Iloilo National High School. He was one of the top three graduates in B. S. Architecture at University of San Agustin in Iloilo.
He was married to Madeline Beltran Hisancha who bore him two children, Raiza and Ralph – a doctor and an architect, whom he did charcoal portraits of as he returned to his love of freehand sketching, which he had long set aside due to so much commitments, a few months before he passed away.