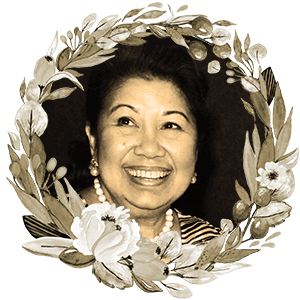 Film producer, movie industry rights advocate
December 23, 1942 – September 7, 2020
MARICHU VERA PEREZ-MACEDA (also known as Manay Ichu, 1942 – 2020) was the godmother of the film industry in the Philippines. She helped establish the Movie Workers Welfare Foundation (MOWELFUND) which was founded by Joseph Estrada. MOWELFUND served to lobby for institutionalizing welfare and film education assistance to the film industry's marginalized, underserved, and underpaid workers who do not enjoy regular employment benefits
Manay Ichu was also cofounder of the Film Academy of the Philippines, the Motion Picture Producers Association, the Film Development Council of the Philippines, and the Cinema Evaluation Board. She was an erstwhile Execom member of the Metro Manila Film Festival (MMFF), and until her retirement in June 2020, was chair of Mowelfund.
Together with Mowelfund President and actress Boots Anson Roa Rodrigo, Manay Ichu organized events and fundraisers to keep the organization afloat: from walkathons, marathons, celebrity golf, bowling and billiard tournaments, and bazaars, almost anything to ensure that members of Mowelfund continue enjoying the benefits promised to them.
One of the unforgettable fundraiser events, according to Rodrigo was Poker Night for a Cause. She and Manay Ichu entertained and fed celebrities and guests who cast their stakes at the poker games. "We were anachronisms to the event that was held at a poker joint," said Anson-Roa, "since we knew nothing about the game, and with our age, looks and discomfort, we would never have passed muster as guest relations officers."
Former Speaker of the House Jose de Venecia, Manay Ichu's brother-in-law (he is married to Gina, Many Ichu's younger sister), in a tribute said, "Manay Ichu was intelligent, articulate, lovely, nurturing and kindhearted, and until her final days, was an untiring advocate of the advancement of the film industry."
Boots Anson Roa Rodrigo, in closing her Philstar article about Manay, writes: "rest in peace, Manay. Mission accomplished. You are now exempt from these adventures and misadventures … all for the love of Mowelfund. Thank you for making your departure the ultimate fundraising event." Her family, upon her death, requested donations to Mowelfund in lieu of flowers.
Manay Ichu was married to the late Senate President Ernesto Maceda. They have five sons: Emmanuel, Ernesto Jr., Erwin, Edmond and Edward. She succumbed after battling heart and kidney ailments for several months, at the age of 77.