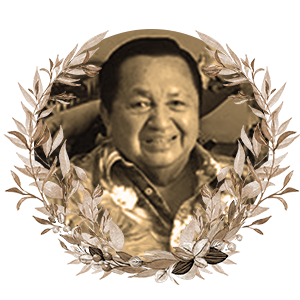 Patron of the Arts, Author, Chef, Heritage Advocate
July 13, 1933 – November 21, 2021
Conrado A. Escudero was a businessman, curator, chef, author, and a philanthropist.
Born in San Pablo, Laguna to Don Arsenio Marasigan Escudero and Doña Rosario Adap-Escudero, 'Ado,' as he was called, was the fifth of seven children. He went to Cornell University where he studied hospitality and culinary arts.
As the haciendero of his family's 800-hectare coconut plantation in Tiaong, Quezon, he transformed it into a grand resort and tourist attraction famous for its interpretations of old Catholic Tagalog culture and traditions. The Villa Escudero resort has its own rondalla, folk dance group, and a production crew for making sets and costumes. It has hosted some historical events, including some activities of the Miss Universe pageant in 1994.
Like his parents, 'Don Ado' had a collection of centuries-old religious images, Philippine furniture, and valuable artifacts. His carrozas — carriages used for religious processions — are displayed in the Casa Consuelo Museum beside the Villa Escudero resort.
The museum, which was an old house in Angeles, Pampanga dismantled and reconstructed piece by piece at the resort by Conrado's expert artisans, was another manifestation of Don Ado's dedication to preserving Filipino culture and heritage.
With his love for tradition and the past, Escudero was also known for organizing the Catholic processions in his town, San Pablo, Laguna. As chairman of the Comité de Festejos, Cofradía de la Inmaculada Concepción Foundation, he helped stage the Intramuros Grand Marian Procession held every first Sunday of December which has become one of Manila's major cultural and religious events.
He was also a member of Patrones de Casa Manila where he helped organize colonial-style events and urged visitors to wear Hispanized Filipino costumes and help build the Intramuros Administration museum collection.
He was a dedicated chef and cookbook writer. With executive chef Cocoy Ventura, he wrote Villa Escudero: Coconut Plantation Cookbook (2016) which explores Villa Escudero's history, traditions, and foodways. Don Ado also wrote Cooking with Coconut which was published in 1981.
He held top leadership in the Philippine chapter of Chaines de Rotisseurs, an international society dedicated to the promotion of culinary and hospitality arts.
He passed away at the age of 87, and was interred at the Escudero Mausoleum on the plantation he loved so much.
His longtime friend, fashion designer Patis Tesoro, remembers Don Ado as someone who "loved the Filipino lifestyle and parties, fiestas, any activity that involved people and Filipino traditions. He mentored me in celebrating life in all its forms."