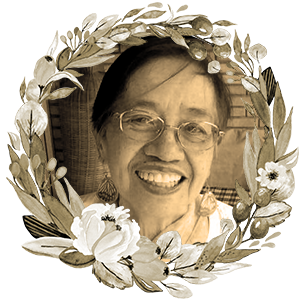 October 2, 1938 — February 1, 2022
Esther M. Pacheco was born on October 2, 1938. She studied at the Baguio City High School, and graduated from St. Louis University, Baguio City. She served as director of the Ateneo de Manila University Press from 1977 to 2003. She then became an editorial consultant for Vibal Foundation Inc.
Under her direction, the Ateneo Press became a University Press respected by scholars everywhere. Esther was the force behind the publication of the books which tackled issues in a number of disciplines— literature and criticism, history, political science, religion, arts, anthropology, and so on.
Seeing the value of Philippine literature in enhancing public discourse, she also published the works of Filipino literary writers and scholars such as Reynaldo C. Ileto, Resil Mojares (National Artist for Literature, 2018), Bienvenido Lumbera (NA for Literature, 2006), Virgilio Almario (NA for Literature, 2003), E. San Juan, Vicente Rafael, Edilberto de Jesus, Filomeno V. Aguilar, and Patricio Abinales.
It was also through the unrelenting efforts of Esther that both primary and secondary materials on Philippine literature were made available to the readers. As director, she understood the key role of the university press to retrieve long-forgotten texts and make them useful to the present. In the 1980s, Esther also spearheaded the Panitikan series, a project that made literary classics accessible to the present generation. She had worked on this project alongside Nicanor G. Tiongson (University of the Philippines Press), Isagani Cruz (De La Salle University Press), and Soledad S. Reyes (Ateneo de Manila University Press). Books by Faustino Aguilar, Inigo Ed. Regalado, Servando de los Angeles, Lazaro Francisco (NA for Literature, 2009), and Edgardo M. Reyes were born.
Esther made sure that critical works that plotted the emergence and development of various genres– poetry, drama, novel, short story–were made available to public to help contextualize the rise of the genres. An important but often marginalized aspect of this body of writing were texts written by female Filipino writers.
As part of her advocacy, Esther Pacheco worked hard to rediscover the richness of the works of Liwayway Arceo, Angela Manalang Gloria, Paz Marquez Benitez, Genoveva Edroza-Matute, Rosario Guzman Lingat, Rosario Jose, among others. The Ateneo Press also published the critical works of Doreen Fernandez, Edna Manlapaz, Soledad S. Reyes, Cristina Pantoja Hidalgo, to name a few.
After retirement, she remained a respected figure in Ateneo's socio-intellectual life. Her solid voice for such issues as gender inequality, environmental concerns, anti-corruption, among others, was just as strong as ever. Dino Manrique, Esther Pacheco's friend whom she had worked with on the Citizen's Environment Network (CEN), the Our Lady of Pentecost Parish Public Affairs Ministry (PAM), and other human rights fora, said that she had fought against historical distortion, discussed the conflict in the West Philippine Sea, and many more social issues. "Despite her age, siya ay very active pa rin sa pagtulong sa bayan, at pagbibigay ng kanyang makabuluhang opinyon," he added, "sa ilang years naming pagiging magkaibigan, masasabi kong Tita Esther lived a meaningful life — hanggang sa huli, patuloy na nag-aaral at nagpapalawak ng kaalaman, patuloy na nagsisilbi sa komunidad at bayan, nakakaalala at tumutulong sa kanyang kapwa."
Esther passed away from complications of pneumonia which led to multi-organ failure on February 1, 2022. She is survived by her two children, Kathleen and Michael.
Ateneo Press shared this on their Facebook account on its 50th anniversary: we honor her indomitable founding spirit. We bid her love and grace on her journey back to the Father.
Tony La Vina said in his Facebook account, "It was always good to see Esther M. Pacheco, master of books and lover of planet and people, comrade in the fight for environmental and climate justice. One my great joys is sharing important advocacies with this woman of great substance! How could we lose with Esther Pacheco on our side – especially since she is now in heaven singing Laudato Sii?"
In a social media post by an Ilokano bookseller from Anvil Publishing, Fidel Sambaoa said, "I remember her for so many instances because of her unconditional motherly approach on book launchings, book fairs and book selling activities during Ateneo occasions. She always remembered and asked, 'Ihong, may discount?, Kumain na po kayo?' (in their events' meriendas, coffee breaks, and lunches or dinners), her smiles will be remembered."
In a written tribute by Karina Bolasco, the current director of the Ateneo Press, Ms. Bolasco described her as "Always intense and fiercely passionate, Esther Pacheco almost always managed to create a space for herself in various advocacy groups, to speak as a woman with a clear vision of a better future for all,"