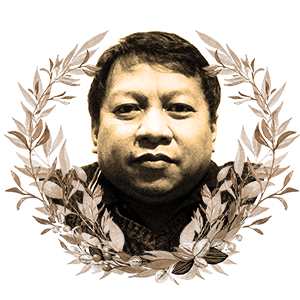 Architect, Heritage Advocate, and Environmental Planner
February 18, 1970 – September 2, 2021
Born in Davao City, Troy Dino Salang Elizaga earned the degrees BS Architecture (1992) and Master of Architecture major in Urban Design (2013) from the University of San Carlos, and PhD Environmental Science (2020) from the University of Shiga Prefecture in Japan. His research interests were urban and heritage conservation.
During his doctoral studies, he took part in the research fieldwork on traditional houses and villages in the Mekong Delta in Chau Doc, Vietnam.
As a staunch cultural heritage advocate and architect, he was a mentor and colleague to young professionals, especially those involved in the cultural heritage field.
Elizaga taught at the University of San Carlos, Talamban in Cebu City starting October 2002. He was a lecturer, thesis coordinator, member of the university's research committee, head of the Theory and History Cluster, and assistant editor of Lantawan, the official college publication.
He was very involved in academic conferences and research activities. Among his many participations were Pamanaliksik : An International Conference on Movable and Immovable Heritage organized by the University of the Philippines-Diliman and Escuela Taller at UP Diliman, Quezon City (2019); Japanese Architecture Institute Conference-Academic Lecture/Architectural Design Competition organized by the Architecture Institute of Japan, held at Hiroshima, Japan (2017); 22nd Young Scholars' Conference on Philippine Studies held in Kyoto University, Japan (2017); and many other symposia and conferences held in Manila, Japan, Korea, and elsewhere.
Elizaga became the second head of the Escuela Taller de Filipinas Foundation-Bohol in 2018, where he supervised the training of young artisans and craftspeople.
He was involved in various heritage conservation projects such as the 1730 Jesuit House Cultural Project, Maribojoc Church retablo restoration, and the Maribojoc Church complex reconstruction.
In Cebu, Elizaga was part of various architectural documentation projects, such as the Pope John Paul XXIII Seminary, and he prepared a historical structure report of the Gotiaoco Building. He was also commissioned by the Ramon Aboitiz Foundation to do a historical structure report of Gabaldon buildings in the province.
On September 2, 2021, he died of COVID-19 in Davao City.
Elizaga dedicated most of his life to the advancement of cultural heritage preservation, particularly built heritage in various capacities. He was a member of the United Architects of the Philippines-Sugbo Chapter, Movement for Liveable Cebu, Philippine Institute of Environmental Planners, Cebu Uniting for Sustainable Water, and the Heritage Conservation Society.
Juan Ramon Jimenez Verdejo, associate professor at the University of Shiga Prefecture, describes the loss of Elizaga and remembers him with forlornness and dignity: "It will take a long time for a Filipino to be born (if he is born at all) who is so noble, so gentle and so lucid of heart, his emptiness will fill our lives with the gift of your example."