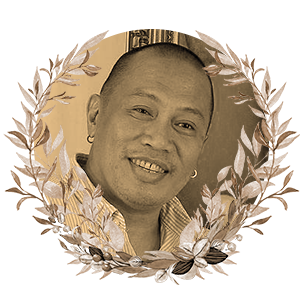 Creative Director, Writer, and Arts Advocate
July 30, 1968 – June 21, 2020
Daniel Palma Tayona was an illustrator and designer of children's books. He was intense about advocacies that supported social and human rights, children's rights, and freedom of expression. This passion for social justice informed his work as a creative director, writer, and arts advocate.
Tayona grew up in Sampaloc, Manila. He attended Holy Trinity Academy in Balic-Balic, and later obtained a degree in Fine Arts and Tourism at the University of the Philippines-Diliman.
After college he took up several different jobs, working as a bookstore manager, an art director for an ad agency, editor for a media company, and a puppeteer. He was also employed at an airline and an IT company.
After being offered a promotion at the airline, he realized that he didn't want to go along that particular career path. He resigned, to the consternation of all who knew him. "That was my very first exciting, and crazy, 'free fall'," he said in an interview with Myra Garces-Bacsal.
The airline industry's loss was the art world's gain, because art was where Tayona's heart lay. "Since the late '90s, when I finally decided to just draw, paint, or even illustrate a book, that's when I knew I was doing what I was supposed to be doing – to give life to the stories inhabiting my head since I was a kid," he said in that same interview.
Among his first forays into book designing, Tayona illustrated Bugtong-Bugtong (1998), a book of children's riddles written by Rene O. Villanueva. Volume 2 was published in 2013 as a tribute to Villanueva, this time with Tayona as author.
As the founding creative director of the Center for Arts, New Ventures, and Social Development (CANVAS) in 2005, an arts advocacy organization, he and founder Gigo Alampay collaborated with various groups that highlighted social and human rights, children's rights, and freedom of expression.
Tayona went on to design 29 children's books for the CANVAS press over 22 years.
His first collaboration with Alampay was for the book Elias and His Trees (2005). The Rocking Horse, CANVAS's first original storybook, was a product of the Romeo Forbes Children's Story Writing Competition in 2006. Written by Becky Bravo with artworks by Elmer Borlongan, Tayona beautifully designed the book and layout, which won the 2007 Gintong Aklat Award from the Book Development Association of the Philippines.
Doll Eyes, written by Eline Santos, illustrated by Joy Mallari, and with book and cover design by Tayona, won the National Children's Book Award in 2012.
Renato Barja's Children Stories (2018) as told by Tayona and Alampay, narrates real and disturbing stories of children Barja encountered in Manila. Silent Witnesses, designed by Tayona with artworks by Renz Baluyut, is a story of martial law written for children that was launched at the UP Vargas Museum in 2019.
Tayona was 51 when he passed away in his family's Sampaloc home, survived by his mother Linda and brothers Robert and David.