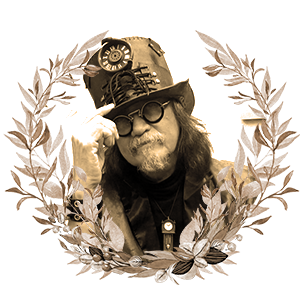 Musician, Magician, Maverick
March 26, 1959 – October 16, 2021
Manuel Noli Quiño Aurillo, acoustic guitar soloist, arranger, and composer who cut across musical genres, went by many names. He was "Señor" or "Nyor" to fellow musicians, a testament to the respect his skill commanded among the best of the best. After a performance, people would chant "Au Au" for the awe he inspired among those who listened to him.
He has been described as a maverick, a savant, a musical genius, a finger-plucking wizard, but also as a kind and generous man with simple needs, just a few wants, firm convictions — and a really big heart.
His oldest sister, Elsa Aurillo-Aquino, recalls that on Noli's birth in 1959, all the newborns in the hospital developed an oral thrush that made it difficult for them to be fed. "I was then 13 years old and was my mother's assistant in taking care of Noli. We had to use a medicine dropper to give him his milk. He struggled, but he survived." She knew then that her baby brother – the youngest in their brood of six – was extraordinary.
The precocious Noli picked up the guitar at age three. "The strings, the frets, the throb on his fingertips, the twangy tones they made, when all were put together just made perfect sense to him before he even understood the very essence of music itself," says his older brother Gabby.
The four-year-old Noli tried teaching his Mana Elsa an Elvis Presley song on a ukelele. "I couldn't follow his fast little fingers," she recalls, "so he suggested I should strum rather than pluck."
Elementary and high school days in Tacloban City meant joining school competitions and being recognized for his guitar prowess. But Noli lived for simple pleasures – like powdering his feet. "This made his day complete," said another sister, Flora, whom he called "Mama."
When the family took a vacation in Manila before seeing Elsa off to take a job in New York, 12-year-old Noli became fascinated with the facade of the Manila Cathedral. He drew it at once and then gave it to his sister as a going-away present. Lo and behold –he could draw and paint, too! He would later on amass his own paintings, unfortunately destroyed by Typhoon Yolanda in 2013.
It was at the University of the Philippines College of Music that Noli got his first taste of rejection. Despite his musical flair, he never learned how to read notes, which was a requirement for admission. His father, a lawyer, begged school officials to at least listen to him with his guitar, but to no avail.
Reading and writing notes remained a frustration – "He said if he knew how to write notes, he could write them down and would not forget the arrangements he had made," said his longtime life partner, Bessy Velez.
He ended up enrolling at UP's College of Fine Arts, dropping out at 17, after just one semester, to hit the road and become a full-time musician. This was the mid-1970s when folk music was all the rage, and he started playing at Hobbit Haus and My Brother's Mustache, getting by through ouido – "kapa-kapa lang," he used to say.
Noli ventured out further after that — to Olongapo, first as part of a band and then jamming with other musicians, and then to Bangkok. He returned to Tacloban to help care for his ailing father.
Noli continued performing, still guided by his ear, and still wielding his magic in bringing out the best in any singer or performer. He played with Asin, and eventually arranged the group's reunion album Dalawang Dekada ng Asin, a compilation of 17 songs for which he was named Best Arranger at the Awit Awards in 2002. He also released two CDs of his original compositions.
A chance meeting with the chief executive officer of a large insurance company, a patron of the arts, allowed Noli to spread his wings farther. He was given full autonomy in recording two albums entitled In Pursuit of Excellence which showcased his virtuosity and range. He played songs including "Everybody Wants To Rule The World," "Material Girl," "Eleanor Rigby," "Somewhere Over The Rainbow," "Stairway to Heaven," and his own composition, a tribute to his hometown, "Ode to Tacloban."
"There are very few musicians who can reinvent songs into covers that will make the original composer rethink that they could have done a better job if they heard Noli's version of their music," says composer Jun Latonio.
The online tributes showed how much Noli was loved by fellow musicians. Bullet Dumas wrote "Man' Noli," a song for him, in the dialect. Johnoy Danao said he was the best guitarist in the Philippines, possibly in the world. Ryan Villamor said Noli was an inspiration not only as a musician, but also as a person. JR Oca thanked him for the color and magic he brought. Rannie Raymundo called Noli his "dearest friend in music, magic, and life."
Bessy said her life was richer because of her partner. "I will miss him playing his guitar, singing the songs he taught me, performing his magic tricks, cooking our favorite meals, binge watching on Netflix, spending time on the roof deck watching the sunset and the stars."
She said his friends will miss his kindness most of all: he played for free on many occasions, and gave advice to other musicians, even giving away some of his trade secrets. "He listened to them and did magic tricks to amuse them. He made them laugh."
"You could say Noli was a nonconformist, a free thinker," said Gabby. "Noli did not subscribe to the idea of commercial success as a measure of achievement, or even a diploma as the only ticket to fulfillment."
He was a magician, in his music and quite literally too. "The happy faces of those around him when he did the tricks – that's the magic I will always remember about my brother," Gabby added.