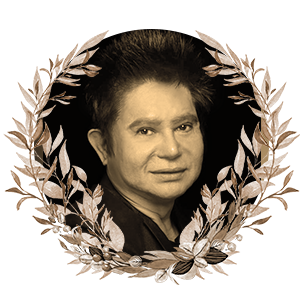 Theater and Film Actor, Screenwriter
July 10, 1959 – April 14, 2021
Florante Balbin Gaerlan, also known as Ryan, was a theater and movie actor, screenwriter, and foodie. He combined entrepreneurship and creative artistry: he was the chairperson and founder of The Company of 5, a performing arts outfit producing indie movies and stage plays, and the proprietor of Garland Fragrances.
Gaerlan was born in Candon, Ilocos Sur, the ninth of twelve children of Efraim Abaya Gaerlan and Florentina Pacquing Balbin. He studied at Candon National High School and obtained a BS Commerce degree from the Philippine School of Business Administration.
His day job was at the Regional Trial Court (RTC) of Pasay City where he worked as a court interpreter. His other pursuits were creative – acting and screenwriting.
Gaerlan was fortunate to have met and performed with the principal actor and dame of Teatro Pilipino, Ella Luansing. He performed in, among other plays, Orlando Nadres's one-act play Paraisong Parisukat (1984), and in Kawawang Marat (1985), under Teatro Pilipino's founder and artistic director Rolando S. Tinio, who also translated Kawawang Marat from Alexei Arbusov's The Promise. From 1976 to 1987, Teatro Pilipino was the resident company of the Cultural Center of the Philippines (CCP).
Aside from the CCP Theater, Gaerlan also top-billed Emile Zola's Therese Raquin together with Annie Navarro, Bobby Saño, Mary Anne Reyes, and Bong Embile under the direction of Frank G. Rivera at the Metropolitan Theater, now a National Cultural Treasure.
One of Gaerlan's best friends, Paulo N. Perez, wrote in his eulogy that Ryan once promised to "immortalize" him by casting him in one of his future films, because Ryan already managed to immortalize himself as he was cast in the short films Joker, Mis Hermanos, and Sa 'Yo Na Ang Korona, among others.
According to Perez, Gaerlan approached all his endeavors with dedication, whether it was brewing coffee for his office mates at RTC Pasay, or screenwriting. Of the latter, Perez wrote: "Bilib din ako sa'yo dahil magaling kang magsulat ng mga dula at screenplays na madalas mong ipabasa sa akin. You are a true artist."
Gaerlan loved the company of friends and family as he was the life of the party, always loud and cheerful as if on stage; with them, he frequented buffet restaurants in search of the best tasting fare which he then recreated in his kitchen.
"Even if he lived in Manila, he cooked various dishes to be delivered to actor and colleague Beverly Salviejo in Quezon City, multi-talented artist Joey Paras in Cavite, and other friends in the Metro," related Rouschelle Gaerlan Mercado, Ryan's niece.
Two months into the 2020 quarantine, Gaerlan started vlogging on his YouTube channel CheFalantz. Perez wrote: "CheFalantz showcases the unique regional flavors of the Ilocos. [Ryan] uses only the finest, freshest, native ingredients in his well-researched dishes and makes you nostalgic about traditional Ilocano home-cooking. He injects his own culinary flair with each dish without compromising the authenticity of the original heirloom recipes."
Gaerlan dressed and carried himself elegantly even if he was just going to Manila Bay to watch the sunset; despite being a senior, he looked young for his age. He adored Nora Aunor and Barbra Streisand, and was passionate about Philippine theater and the Golden Age of Philippine Cinema.
He esteemed his eldest sister Mary Ann, who he looked up to as his second mother, and showered much love on his anak-anakan Kyle Rizo. "You had a big, compassionate heart. Napakabuti at generous mong tao," Perez wrote of Ryan, who was loved and respected by relatives and friends.
On Ryan's death, Perez wrote: "Maraming salamat sa lahat ng mga magagandang alaala ng pagkakaibigan. Hanggang sa muling pagkikita. Sabi nga sa teatro, 'Follow your light.' I hope you've found that beautiful light."