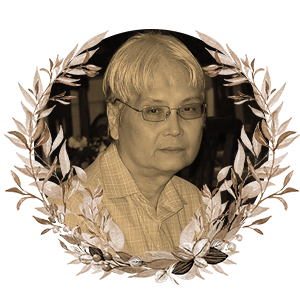 Upstart magazine publisher, Filipino pop culture icon
1948 – 2020
Gilbert Austria Guillermo (1948-2020) was the founder of Jingle, a chord book magazine – and the Philippines' music Bible — at the age of 22 on October 1970. Not every young upstart publisher becomes a driving force for Original Pilipino Music and a pop culture icon—but that's exactly what Guillermo became.
Like many Filipinos of his generation, Guillermo started out as a fan: of Elvis Presley and the Beatles. He established Jingle Magazine because he felt the youth deserved good entertainment: a bi-monthly magazine with a colorful cover, inside pages that contained lyrics of pop-rock songs and their chords; and feature articles on pop/rock stars. The Jingle staff played songs repeatedly to get lyrics and the guitar chords right.
He became the magazine's publisher and editor-in-chief. Through Jingle, Guillermo taught a generation (or two) to play the guitar.
Jingle magazine became a seminal cultural force for musicianship and the appreciation of Original Pilipino Music and Filipino cultural education in general.
Raimund Marasigan of Sandwich, and Francis Reyes of The Dawn both say that they learned to play guitar, thanks to Jingle.
Gilbert's younger brother Eric — then just 15 – had a "chord book" in mind: a magazine where one could learn to play guitar to pop songs. They convinced their mother to put up a family property as collateral for a bank loan to finance the magazine's first issue. They paid her back within less than a year.
The maiden issue was sold out, and had several reprints. The magazine was a runaway success. It was initially published every two months — without ads — and with only subscriptions and newsstand sales for revenue. But at its peak, the magazine printed as much as 100,000 copies.
The magazine included record reviews, poetry, essays, short stories, editorial cartoons, music industry gossip, comic strips, letters, and "Grin Page," a jokes section contributed by readers.
Guillermo had a knack for finding talent. Jingle attracted the best and the brightest contributors who eventually did well in journalism and related fields [such as PR, graphic design/visual arts, education and law, and even independent filmmaking].
Oft compared to Western magazines such as Rolling Stone and Creem, Guillermo's Jingle continued publishing well into the late 1980s, and served as "a platform for the culture of Filipino youth," "a cultural touchstone for generations of Filipino youth," a kind of "freedom wall."
Guillermo was born on May 5, 1948 in Maylawa, Obando, Bulacan. He went to Maylawa Elementary School, Don Bosco Mandaluyong, and had a baccalaureate degree in English from the Far Eastern University (FEU). He taught at Philippine Christian University. While he was CEO of Jingle, he moonlit as a real estate broker.
Guillermo passed away on July 21, 2020, three months shy of Jingle magazine's 50th anniversary.
Fortunately, he had already received–years before—much-deserved honor and recognition for his invaluable contribution to Filipino culture. In year 2000, rock radio station NU 107 recognized Jingle Magazine's invaluable contribution by conferring Guillermo a Lifetime Achievement Award. In 2012, a tribute documentary, Jingle Lang Ang Pahina, was produced and released. In it, Dominador "Chuck" Escasa, Jr. interviewed Guillermo and former editors and staff of Jingle magazine. All fitting reminders of Guillermo's legacy.