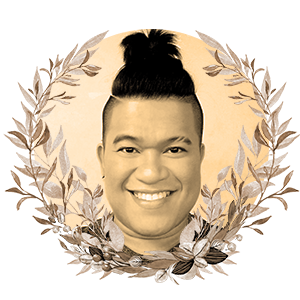 Celebrated versatile performer who specialized in stand-up comedy, writing his own material and for other comedians. He was also a host, actor, writer, singer, and director.
1979 – 2020
KIM IDOL, KIM DINOSAUR (1979–2020) real name MICHAEL ARGENTE, was a stand-up comedian, host, actor, writer, singer, director.
Argente became a household name after becoming a host for Eat Bulaga from 2008 to 2010. He was lauded for his impersonations, the most popular of which were Maya "Mitch" Valdez and Senator Leila De Lima. He was also known for doing dinosaur sounds hence his other stage name, Kim Dinosaur.
His movie credits as an actor include Ang Darling Kong Aswang and Love on Line, both in 2009, and Woke Up Like This in 2017. His television work included My Binondo Girl in 2011, Toda Max in 2013, Sunday Pinasaya in 2015; Superstar Duets in 2016; and Full House Tonight, Meant to Be, and All-Star Videoke in 2017. He also received writing credits in 2011 for Gandang Gabi Vice.
Argente also wrote materials for famous Philippine comedians such as the shows Poohkwang, Da Spooftacular Showdown, and My Poohlish Heart where he was also the director. They were staged at the Music Museum and were produced in ASAP XV by ABS-CBN.
Argente was born in Sta. Ana, Manila on March 30, 1979. During the pandemic, he worked as a volunteer quarantine officer at Philippine Arena. Argente also was the youngest Golden Book Awardee of The Library, a sing-along bar that honors Sing-Along Masters in the Philippines. He received the Entertainer of the Year award in 2004. He also performed at comedy bars Klownz and Zirkoh.
Friend and fellow comedian Allan K considers Argente one of the best talents Klownz and Zirkoh ever had—one of the funniest on and off stage. In Argene's account at opencomedy.com, he described himself as follows: "Travelling the world to spread Happiness! A comedian and a writer for top comedians in the Philippines! I'm the pied piper of laughter! Follow me! :)"
Having performed with other artists in some countries in Asia and the Middle East, in Australia, and in European cities including Copenhagen in Denmark, Milano in Italy, Munich in Germany, Stockholm in Sweden, and Vienna in Austria, it can be indeed said that Argente was able to fulfill his mission of delivering Philippine comedy to the world.