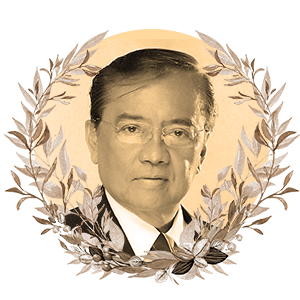 Statesman, freedom fighter, and environmental activist
October 16, 1939 – April 20, 2020
HEHERSON T. ALVAREZ (1939 -2020) devoted a greater part of his life to noble causes – standing up against oppression and tyranny, pursuing modernization and national development programs, advancing social justice, protecting the environment, and supporting Philippine arts and culture.
A Senator for 12 years, he also occupied five Cabinet positions including as Secretaries of the Department of Agrarian Reform, the Department of Environment and Natural Resources, and the Climate Change Commission.
As Chair of the Senate Committee on Environment for 10 years, he made environment issues a major national concern. He authored landmark environmental laws, among which, the Clean Air Act, Solid Waste Management Act, and the National Integrated Protected Areas System (NIPAS) Act. He also authored the Comprehensive Agrarian Reform Program (CARP) and the Law Creating the Department of Energy. He was responsible for introducing the use of unleaded gasoline into the country in 1994.
He was a lone voice in the Senate in 1988 when he consistently warned of the disasters of global warming and climate change. In 1995, he organized the 1st Asia Pacific Leaders Conference on Climate Change in Manila. As Secretary of the Climate Change Commission, he crafted the 2010 Philippine Framework Strategy on Climate Change.
In the dark days of Martial Law, he became a freedom fighter and staunch advocate for Philippine democracy. He was named one of the Ten Most Outstanding Delegates to the 1972 Constitutional Convention, and was one of the few who refused to sign the Marcos-dictated Constitution. A vocal critic of the Marcos dictatorship, he was issued a shoot-to-kill order, where he eluded arrest, going underground and eventually escaping to the United States. There he organized the overseas democratic opposition, and while in exile, founded the Ninoy Aquino Movement, described by the Wall Street Journal as the "biggest and best organized opposition movement in the US." Then US Senator Ted Kennedy wrote that Alvarez's "tireless dedication to democracy in the Philippines made a real difference."
In 1992, he co-authored, together with Senators Edgardo Angara, Leticia Ramos Shahani, and Congressman Carlos Padilla, RA 7356, creating the National Commission for Culture and the Arts (NCCA). He was later presented the NCCA Award of Recognition for his "significant contribution to the development of Philippine arts and culture."
He was a Recipient of the Order of Lakandula-Grand Cross Bayani, one of the highest honors conferred by the Republic upon an individual whose life is worthy of emulation by the people. An Outstanding Alumnus Awardee of the University of the Philippines (UP), he received his Master's Degree in Public Administration from Harvard University, USA. Before his passing, he was Chair of the Advisory Board of the Washington, D.C.-based Climate Institute.
He was married to artist, activist, and PETA Founder Cecile Guidote-Alvarez; they have two children, Hexilon and Herxilla.