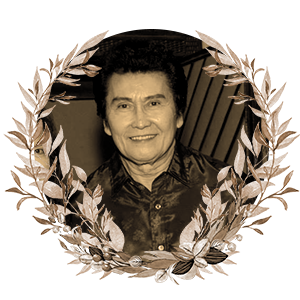 Veteran Film Actor and Martial Artist
February 3, 1947 – June, 24 2020
FRANCO GUERRERO (February 3, 1947 – June, 24 2020), real name Francisco Almodovar Liwanag, was a veteran character actor and karate master who was part of the first wave of martial arts action stars in Philippine cinema. Commendably, Guerrero was cast in local and internationally-released action films in the late 1970s and the 1980s.
He played the lead role of Interpol agent Ramon in the American movie, The One-Armed Executioner in 1981, a movie written, directed, and produced by Filipino film producer Bobby Suarez. Apart from the predominantly American cast of actors, Leopoldo Salcedo and Odette Khan also appeared in the movie.
Guerrero was in other American films: as Ben "Chito" de Leon in Leody Diaz's The Return of the Bionic Boy (originally titled Dynamite Johnson), 1979; as Anuk in Suarez's Warriors of the Apocalypse (also known as Searchers of the Voodoo Mountain and Time Raiders; where he was also an action coordinator), in 1985; and as Golden Triangle drug lord Somsak in Suarez's American Commandos/Hitman in 1986. Bionic Boy was produced by Suarez.
Guerrero appeared in more films that were produced, written, and directed by Suarez for an international market, predominantly, American and Canadian. Suarez's films were among the 50 top grossers in the North American market, and were considered "cult classics."
Guerrero depicted the role of Interpol Agent Ben "Chito" de Leon in They Call Her…Cleopatra Wong in 1978; cross-dressing Terry del Rio in Devil's Angels/Pay or Die in 1979, and Tony del Rio in Mean Business in 1979. He also portrayed the role of Captain Anan in Revenge of the Kickfighter in 1987; and Boss Tang in Fatal Chase in1992; and was also in Mission Terminate in 1991.
He was also one of Filipino movie spy Tony Falcon's agents in Antonio Laxa's Legs… Katawan… Babae! In 1981; and guested in Walang Matigas Na Buto Sa Gutom Na Aso, starring Palito and Shiela Ysrael, in 1993. Antonio Laxa is the real name of actor-producer Tony Ferrer who portrayed Falcon.
He used various screen names during his illustrious career: "Chito Liwanag" as an actor in his first movie, Edgar Loves Vilma, in 1970; and "Chito Guerrero" from 1971 until 1985; and was known as "Franco Guerrero" from 1985 until his last movie in 2016.
Guerrero appeared in only two movies and one TV movie after the turn of the 21st century. He was however interviewed for two documentaries by Australian nationals: Andrew Leavold's The Search for Weng Weng in 2007; and Mark Hartley's Machete Maidens Unleashed in 2010.
As one of the stars in Philippine cinema's action era, Guerrero deserves to be remembered and honored by Filipino action film fans—and perhaps in the age of social media, that can be realized more fully.