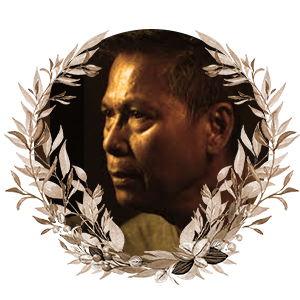 Labor leader and theater, film, and television actor
January 7, 1952 – April 1, 2022
Crispin Pineda (Crispin Dela Cruz Pineda) was a theater, film, and television actor. He was born in Santo Cristo, Gapan, Nueva Ecija on 7 January 1952. He was the son of Engracio Busalpa Pineda and Miguela Tolentino de la Cruz. Of peasant origins, he was greatly influenced by his father, who composed songs and wrote poems and taught him the value of hard work. He studied at General Tinio Elementary School in his hometown and Jose Rizal City School in Pasay. He then took a course on automotives at Araullo College.
During his teenage years, he accepted all kinds of work to sustain his family. He drove karitela (horse-drawn rigs), and worked as a construction worker, carpenter, mason, wallpaper installer, house painter, and plumber until he was accepted in Wyeth Suaco where he worked for 23 years at the Engineering Department. In the year 2000, he co-founded Macprod Management Services Inc. and handled the Fabrication Department as vice president of the company.
Pineda first appeared in the title role of Dulaang Babaylan's Bagong Kristo (New Christ), 1977. In 1978, he played Flash Gonzaga in Reuel Molina Aguila's In Dis Korner (In This Corner). In 1983, he again played Jesus Christ in Anton Juan Jr.'s Senakulo (Passion Play) in France. He was cast thrice as Andres Bonifacio: in Langit Ma'y Magdilim (Though the Heavens Grow Dark), 1979, and Sigaw ng Bayan (People's Cry), 1982, both written by Bonifacio Ilagan; and Dulaang Bonifacio's Ang Paglilitis (The Trial), 1985. He also appeared in Marina Feleo-Gonzales's Dahong Palay (Rice Leaves), 1982; Felipe Santander's El Extensionista/Ang Budhi ng Bayan, 1984; Chris Millado's Buwan at Baril sa E-flat Major (Moon and Gun in E-flat Major), 1985; Bonifacio Ilagan's Welga! Welga! (Strike! Strike!), 1985; Aurelio V. Tolentino's Kahapon, Ngayon at Bukas (Yesterday, Today, and Tomorrow) in 1988; Diosdado Anzures Jr.'s Magkano Ka Walong Oras Isang Araw (How Much Are You, Eight Hours a Day), 1991; St. Louis Loves Dem Filipinos, 1993; Carlo Pacolor Garcia's Bakit Wala Nang Nagtatagpo sa Philcoa Oberpas (Why Nobody Meets Anymore at the Philcoa Overpass), 2010; Rene O. Villanueva's Hiblang Abo (Strands of Gray) and Layeta Bucoy's Doc Resureccion: Gagamutin ang Bayan (Dr Resureccion: To Heal the People), 2011; Bucoy's Walang Kukurap (Let No One Blink), 2012; and Kevin Tabora's Mapagbirong Haplos (Mischievous Touch), 2013 and 2014. He was part of the cast of the 2017 restaging of Buwan at Baril sa E-flat Major and also appeared in two Virgin Labfest plays: J. Dennis Teodosio's Rosas (Roses), 2018, and Rolin Migyuel Obina's Ang Pag-uulyanin ni Olivia Mendoza (Olivia Mendoza is Losing Her Mind), 2019.
Since the 1980s, Pineda has appeared in television shows, like Handog ng PETA (An Offering of PETA), Katakataka (Mystifying), and Dear Teacher, 1981; Angkan (Clan), 1986-89; Noli Me Tangere (Touch Me Not), 1992; Maalaala Mo Kaya (Will You Remember), 2006-2018; Nasaan Ka, Elisa? (Where Are You, Elisa?), 2011; E-boy, 2012; Magpakailanman (Forever), 2013-2017; Ipaglaban Mo (Fight for It), 2014-2018; You're My Home, 2015; Stories for the Soul, 2018; and Manilennials and Call Me Tita (Call Me Auntie), 2019. He performed roles in films like Tatlong Taong Walang Diyos (Three Godless Years), 1976; Boatman, 1984; Hinugot sa Langit (Wrenched from Heaven) and Gamitin Mo Ako (Use Me), 1985; Ligaya ang Itawag Mo sa Akin (They Call Me Joy) and Ang Lalaki sa Buhay ni Selya (The Man in Her Life), 1997; Kahapon May Dalawang Bata (Yesterday Children), 1999; Azucena, 2000; Ang Lalake sa Parola (The Man in the Lighthouse), 2007; Ploning, 2008; El Presidente (The President), 2013; Bonifacio: Ang Unang Pangulo (Bonifacio: The First President), 2014; and Banal (Holy), 2019. He has also dubbed for television cartoon shows like Ultraman, Voltes V, and Little Women; and endorsed several brands through TV and print releases.
On April 2, a day after Pineda's passing, Dennis Marasigan, a theater veteran and Pineda's acquaintance, would describe his performance as Flash Gonzaga to be "very penetrating in its rawness and truth". He continued by talking of Pineda's work ethic, "… he was such a dedicated and committed actor, giving his all to every role he was cast in, whether it would be in theater. television, and film. Marasigan reasoned that this was why Pineda was able to get many offers for worker-type roles, and later be part of various productions. Outside of work matters, Pineda was said to be compassionate and genuine in his relationships with others.
Guelan Luarca, a theater writer and director, also spoke with fondness of his memories of having Pineda as his first 'director'. He described Pineda as "intense" whenever it was time to work on the scenes. "Nakatingin sa sahig, namumula, high blood ata, nakapikit pa nga, nakikinig sa delivery ng aktor," told Luarca. He said that he learned this from Pineda: to listen to the actor rather than to look at them in order to gauge the sincerity weaved into the lines being delivered. From learning the value of hard work through his father's craft, Pineda went on to share the same value to the people he has worked with and encountered, passing on the passion he had built along with determination and love for his work.