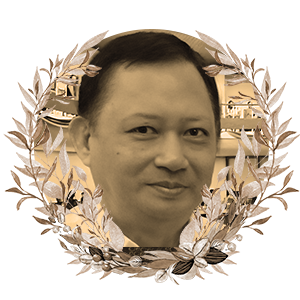 Teacher, Literary Critic and Researcher, Historian
January 13, 1940 – December 6, 2021
Vivencio Reyes Jose was a teacher, historian, literary critic, and prolific essayist.
Born in Gapan, Nueva Ecija to Mauricio Jose and Fabiana Reyes, he earned the following degrees from the University of the Philippines (UP): BA English, 1963; MA Comparative Literature, 1974; and PhD Philippine Studies, 1977.
He taught at UP and retired as full professor. He also served as chairperson of the UP Department of English and Comparative Literature, 1984-88; director of the UP Press, 1987-88; dean of the College of Arts and Letters, 1988-91; and secretary of the university, 1993-95.
Jose also worked for the Food and Agriculture Organization, UNESCO, and the United Nations University in Tokyo, Japan.
He was editor of Philippine Social Sciences and Humanities Review, 1978-81; contributor to Bulletin of Philippine Folklore and Local History; and columnist of Diyaryo Filipino, Philippine Journal, and Malaya. He contributed to the Korea Herald, New Straits Times, and the Jakarta Post. He was a member of the UP Writers' Club, Literary League of the Philippines, National Research Council of the Philippines, and the Philippine Folklore Society.
Professor Jose wrote more than 400 scholarly articles and creative works for university, national, and international publications and journals dealing with varied subjects such as culture, education, literature, disarmament, peace, and debt and development.
Among the books he published were The Rise and Fall of Antonio Luna, 1972, which became the basis for the well-regarded film Heneral Luna, directed by Jerrold Tarog and produced by Artikulo Uno Productions in 2015; The Duplo: Verse, Debate, and Performance (A Preliminary Study), 1977-78; Ideological Trends in Philippine Folk Literature, 1980; and Development for Redistributive Justice: The Case of Disadvantaged Rural Dwellers, 1991.
The present generation will remember him for one of his most recent publications: Heneral Luna: The Story Behind the Movie, published by Anvil in 2018. The book was a bestseller and deemed a good companion guide for the movie.
Jose received the Distinguished Faculty Service Award in 2010 and the Outstanding Pioneer Award in Philippine Studies in 2013 from UP.
He passed away in his ancestral home in San Nicolas, Gapan, Nueva Ecija.
Writer Merlie Alunan wrote these kind words on social media: "I met Professor Jose only once, when he visited UP Tacloban College in the early '80s. It was a very rough patch in my life, one that had compelled me to move back into my parents' home with my children. I was chafing at my circumstances, being a stranger in a city where I do not speak the language. I was missing the Silliman Campus and kindred company.
"I never forgot his quiet and simple words: 'You can create that community here. This is your chance.' After years of working at UP Tacloban College, I understood that that was what any true-blooded UP faculty would say. I never talked to Dr, Jose after that, our paths never crossed again. I stayed and helped create a community of writers in Eastern Visayas. Thank you, Dr. Vivencio Jose."