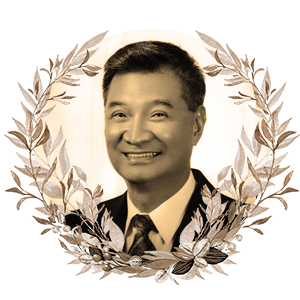 Philanthropist, Businessman and Arts and Culture Patron
November 11, 1926 – August 16, 2021
Keng Si Tu, also known as Angelo King, was a philanthropist, businessman and patron of Filipino arts and culture. He was also known as the "Motel King of the Philippines," having established the famous Anito Lodge, while one of his sons put up Victoria Court.
King was born in Binondo, Manila, to a Chinese family that moved from Fujian Province to the Philippines. He didn't grow up wealthy; in the pre-war years, his father worked as a cook and ran a glass retail shop. To help make ends meet, an 11-year-old Angelo bought and sold secondhand books, magazines, and comics, and sold newspapers as well.
King finished high school at Chiang Kai-Shek College, where he learned Chinese history and literature. He also studied engineering at the Mapua Institute of Technology, but had to quit college to manage his family's business.
During the 1940s, he worked part-time as an electrician, with American soldiers as some of his customers. In return for his labor, the Americans gave him canned food which he took home to his mother. When he was 23, he took his savings and bought his cousin's glass business.
In the 1970s, he established Anito Lodge, a venture that became very successful. Some years later, his eldest son Archie opened Victoria Court, a high-end lodging inn.
Throughout the years of hardship, Angelo King learned much about life and business and how to be resourceful. He witnessed the poverty and suffering that was a result of the war. King strongly believed that with the help of others, every person could succeed in their endeavors in life.
In 1978, Angelo King founded the Angelo King Foundation Inc (AKFI) to fulfill his avowed purpose of helping the less fortunate. He helped build or establish schools, homes for the aged, orphanages, women's homes, drug rehabilitation facilities, centers of culture and education, and medical centers, and supported other charities throughout the Philippines.
Among the projects he helped fund were the De La Salle-College of St. Benilde Angelo King International Center, the Angelo King Center for the Performing Arts at the De La Salle Santiago Zobel School, and the De La Salle Medical and Health Sciences Institute in Dasmariñas, Cavite, among hundreds of other projects.
Angelo King, who passed away at 94, was the husband of Belen Rosario-King and father of Archimedes "Archie" King and Wyden King. He also was blessed with many grandchildren and great-grandchildren.
King's legacy is one of charity and sharing. After witnessing firsthand the horrors and privation of war and poverty, he made it his life's mission to help alleviate human suffering and make life better for others.
He told his family: "I hope that you, my children and grandchildren, on whom the King legacy will be bestowed, can support my ideals and continue what I have started in AFKI. As long as there are people in need of help, AFKI must live.
"This is the greatest gift I can leave you – the opportunity to serve others and share your blessings. This gift will help you realize what life is all about. It will give you direction towards a full life. By doing so, more and more people will be helped and will appreciate life."