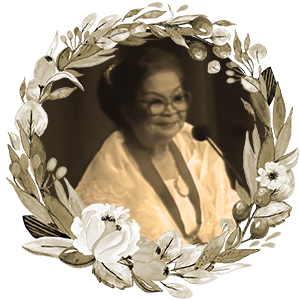 Awardee of the Gawad CCP para sa Sining, Actor, and Theater Practitioner with the Heart of A Leader
December 23, 1922 – February 1, 2021
Actor, director and educator Natividad "Tita Naty" Crame-Rogers devoted an entire lifetime to theater arts and education in the country.
Best known for playing the lead in "The Love of Leonor Rivera," a role she essayed in more than a thousand performances, she led a remarkable career as an actor on the legitimate stage, appearing in various other roles with different theater groups.
She helped establish the Arena Theater of the Philippines at the Philippine Normal College (PNC) which started the movement of bringing the arts to the people. It became part of President Ramon Magsaysay's program for the upliftment of the masses through an awareness of Filipino identity and the appreciation of art and culture. It was also at the PNC where she established the first teacher's theater, the Dulaang Guro Paglilingkod-Bayan.
She was active in many school and university theater groups and established a Drama-and-Theater-in-Education Program as well as the St. Scholastica Drama Guild. As a doctoral student at the University of Santo Tomas (UST), she convinced the school administration of the power of theater for values orientation and for the passing on of Thomasian tradition. Thus, an in-service program for graduate school faculty and students was launched. The University of Santo Tomas Graduate School Academic Theater (USTGSAT) was born with "Portrait of the Artist as Filipino" as its opening production. The Academic Theater toured the play in provinces and presented it abroad at the Ko Chang International Festival of Theater in 2002 in Korea where it garnered honors for the University of Santo Tomas, the Republic of the Philippines, and Southeast Asia.
She extended the reach of theater by establishing the Philippine Drama Company (PDC) putting up the Ang Aming Tahanan Sala Theater where she converted her living room into a stage. As a Southeast Asian Treaty Organization (SEATO) fellow, she observed and documented classical forms of theater in Asia and recommended a synthesis of a Philippine theater form characterized by Asian theater conventions instead of Western theater styles.
To the end, "Tita Naty", as Mrs. Rogers was fondly called by all, remained active as a teacher, an actress, and a director. In 2006, she joined the US tour of the USTGSAT as Director of "Portrait of an Artist as Filipino." In 2007, she was among the featured artists in the CCP's tribute to her friend and contemporary, National Artist for Theater Daisy Avellana. Tita Naty was awarded the Gawad CCP Para Sining for her work in theater and arts education in 1994.