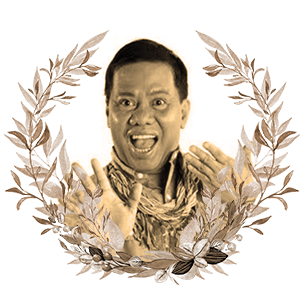 Actor, Comedian, Radio Show Host
January 21, 1960 – June 23, 2021
Carmelito Masagnay Reyes, known as 'Shalala' to fans, was a comedian, publicist, television and film actor, and radio personality.
He started as a member of the advertising and promotions staff of Viva Films, Millennium Films, and Maverick Films, working on releases such as Ping Lacson: Super Cop (2000) and Luv Text (2001).
He landed on TV show host and producer German Moreno's radar, who took note of the performing spirit in him, a comedian with deadpan quips. "Shalala" was the name bestowed on him by Kuya Germs himself.
With Moreno, Shalala co-hosted Walang Tulugan With the Master Showman for GMA starting in 2001, and appeared as co-host for the network's other entertainment shows such as StarTalk. He also did advertising and promotions work for film and TV, such as Batas ng Lansangan (2002), You and Me Against the World (2003), and at least five other films.
After a decade at GMA, he transferred to TV5 in 2010 to host Juicy! (2010–2012), Swerte Swerte Lang (2011), Hey, It's Saberdey! (2011–2012), and Good Morning Club (2012–2014). As 'Kagawad Brad,' he was in five episodes of Inday Wanda, a 2011 series starring Eugene Domingo as a magical shaman.
That 2010 move also signaled his start on radio. That year, he became part of Todo Bigay! for Radyo5 92.3 News FM until 2014, and was also part of at least four other shows on various stations until 2017.
Around 2014, Shalala returned to GMA to co-host once more Walang Tulugan With the Master Showman, and upon Moreno's death in 2016, continued the stint with new host Nora Aunor. The show was cancelled, and he didn't return to GMA until 2017, as a guest in Sunday Pinasaya.
He guested on several shows for ABS-CBN, and was part of the cast in the network's now defunct afternoon teleserye Pusong Ligaw (2017-2018).
He worked in at least 18 films in a gamut of genres, among them Lagot Ka sa Kuya Ko (2006), Si Agimat at si Enteng Kabisote (2010), Ligo na Ü, Lapit na Me (2011), Echoserang Frog (2014), and Die Beautiful (2016), often playing small supporting roles like a photoshoot director, a beaucon host, or a manicurist, billed as Shalala, Zhalala, or Tolites in these comic turns, and as Lito Reyes in more serious fare.
In 2018, Shalala returned to his home network GMA as a guest in the weekend musical variety program, Sunday PinaSaya, and in the comedy anthology, Dear Uge. Just as he first made a household name for himself in Eat Bulaga's "Pinoy Henyo" segment, he returned to the variety show in 2020 to take part in the popular segment, "Bawal ang Judgmental." It was his last TV appearance.