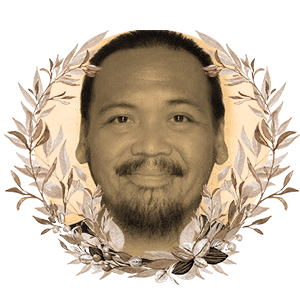 Actor
August 14, 1975 – February 21, 2020
You cannot mistake his presence on the big screen, or in TV commercials, even in supporting roles that are sometimes indistinguishable from an extra. But he made those small bits count, often in effective, if subtle, comic takes.
In the 2011 French film Le Marquis, he comes charging in at an airport tarmac scene riding a motorcycle, then strides up to the leads—who play petty criminals who have found themselves somehow in the Philippines—and barks suspiciously: "What are you doing here?" He charges at them with Kung Fu Panda moves, and is quickly overpowered. But by then, Bernard Catindig has made his mark on us.
Jose Bernard Laguerta Catindig, 'Papa Bear' to friends, was an actor and consummate performer first and foremost. For his day job, he was a trainer at the Technical Education and Skills Authority (TESDA) and proprietor of a shoe store.
He was born in Dumaguete City to Teodoro Panaligan Catindig, who owned a bakya store in town named Bakya Mo Neneng, and Guillerma Jalandoni Laguerta. When his father returned to Manila at the height of Martial Law, his mother took over the store and changed the name to Bakya Center—a heritage business establishment in Dumaguete.
Bernard studied at Silliman University from grade school onwards, graduating from the high school in 1992, and graduating with a degree in business administration, major in management, in 1996.
He went freelance after college while helping out his mother at their shoe store, but always with the passion for performing in mind. He was already doing theatre and comedy while in school, and in 1998, he was also a DJ for DYSR-FM until 2001.
In 2004, he found a small role as a lechonero in Laurenti M. Dyogi's All My Life, followed by Joyce Bernal's D'Anothers in 2005, where he played Padre Florentino. Other supporting roles for Star Cinema films followed in 2006 and 2007.
At the same time, he was appearing in various TV commercials for Nizoral, Diatabs, San Miguel Beer, Cafe Puro, Halls Candy, Judge Chewing Gum, WOW Magic Sing, among others.
He also did BPO and theatre work in Cebu, and was a part-time instructor at Metro Dumaguete College in 2008-2009, training call center agents in English. Around this time, until 2011, he also worked with TESDA, again in Cebu.
He went back to film work shortly, starting with the 2011 French film, where his scenes were shot in Cebu. Working with fellow Bisaya filmmakers, he was in Brandon Relucio and Ivan Zaldarriaga's Di Ingon 'Nato (2011), and in Victor Villanueva's My Paranormal Romance (2011). Catindig also had a role in Villanueva's mainstream breakthrough in 2016, the comedy Patay na si Hesus, for which he also did logistics and promotion.
In 2017, his mother died and he was left to manage the family's ladies' footwear store. As proprietor, he changed the name from Bakya Center to PreZShoes. In 2019, he went back to being an English language trainer at TESDA Region VII in Cebu.
Around the same time, he was diagnosed with chronic kidney disease stemming from diabetes. It was his experience dealing with this sickness that impelled him to run for public office in 2019 on a health platform. Even when he lost, he continued his campaign to educate people on health issues.
He succumbed to his illness on 21 February 2020, survived by his wife and sons Lord Wisely and Bruno Well.
His wife Prez Sulla remembers how adamant he was in pursuing acting: "His dream [was to be] an actor, [and he was] very dedicated to the craft. I know he put his heart and soul to it. The drive and the burning desire to act and sing was immeasurable…His sense of humor will never be forgotten and will always be remembered. He mastered the craft of putting a smile on everyone's face."