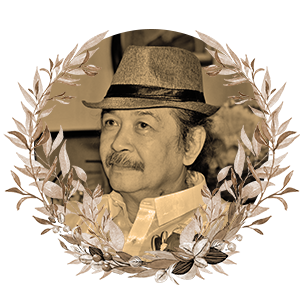 Visual Artist, Editorial Cartoonist, Art Director
May 19, 1953 – May 24, 2020
Benjamin Garcia Laygo Jr. was a down-to-earth editorial cartoonist, graphic designer, painter, and art director.
The son of Zny Laygo, a world-renowned woman painter, Benjamin Laygo attended Novaliches High School, National University of Manila, and graduated with a Fine Arts degree from the University of Santo Tomas.
He began his career during the martial law era as a staff artist for the newspaper Philippine Daily Express, from 1973 to 1984. He also contributed his artwork to the independent weekly newspaper WE Forum.
After the Marcos regime, Laygo became the artist-in-residence at the Manila Chronicle. He also worked as the art director for Philippines Graphic magazine, and contributed to Business Mirror and Malaya, among others.
Outside of broadsheet publishing, Laygo consulted with numerous organizations, rendering his art through various media. Among his clients were the National Union of Journalists of the Philippines, for which he designed a logo, letterhead, and other merchandise; the Aliw Awards Foundation, for which he designed the awards trophy; the Department of Environment and Natural Resources, for which he designed a training manual; and Ilocos Sur Governor Deogracias Victor "DV" B. Savellano, for whom he designed the coffee table book Ilocos Sur: An Illustrated History.
He also served as layout artist and art consultant for magazines from the late 1970s to the early 80s, and became a creative director, editorial cartoonist, and art consultant for many publications.
Among Laygo's honors were an honorable mention in the graphic arts category of the 1971 Shell Art Competition, and third place in the PIC/ SKP (Samahang Kartunista ng Pilipinas) Cartoon Competition in 1980. He mounted 'Last Laugh,' his first solo exhibit of cartoons, in 1981.
He was a member of at least two artist groups: the Samahang Kartunista ng Pilipinas, an organization made up of professional editorial and cartoonists, whose members include Pol Medina, Jr., National Artist for Visual Arts Larry Alcala, and the late Edd Aragon; and the Banggaan Art Group, an informal group of artists, most of whom are based overseas.
He is survived by his wife Emily, his children, and grandchildren.
Despite his stature as a cartoonist and art director, Laygo remained humble. Philippine Star columnist Juaniyo Arcellana remembers Laygo (who was also a well-loved chess player and colleague), as having no qualms about helping push a co-worker's car "to jumpstart it, back and forth in the Port Area parking lot late in the evening, with a taong grasa nicknamed Rambo watching amusedly nearby."
Arcellana remembers Laygo then illustrating "an essay in the Sunday edition of [Manila Chronicle], titled 'Vagabond Salad,' about similar homeless wide awake under the sky."