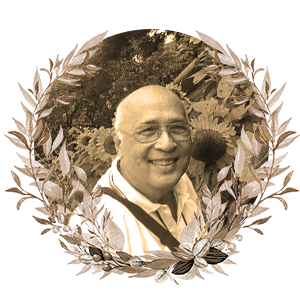 Activist, Theater and Cultural Worker, Environment Advocate
February 27, 1947 – September 5, 2021
Sixto Carlos Jr. was an activist, theater and cultural worker, and environment advocate who co-founded the Samahang Demokratiko ng Kabataan (SDK), a mass organization of student and youth activists who fought the Marcos dictatorship.
He was known to some as 'Tosong' or 'Tosix,' to others as 'Ka Sixto' or 'Ka Jun,' and to many, particularly those from his hometown of Pandacan, as just 'Jun.' He was imprisoned from 1979 to 1983 for fighting martial law during the Marcos regime.
Talking about his days in detention, Carlos recalled: "I was subjected to different forms of torture from water cure to be given bodily beatings to being hung upside down. I was kept in an 11-feet by 4-feet isolation cell. For two years, I was not formally charged with any offense in court."
He went into exile in Europe after this, but upon returning to the Philippines, helped his neighborhood in Pandacan preserve its cultural heritage.
In 1999, Carlos joined Akbayan as a central party leader. He served as a member of Akbayan's National Executive Committee from 2004 to 2007 and International Secretary from 2001 to 2007.
Akbayan Partylist wrote this about Carlos in a Facebook tribute: "To us, Ka Sixto is more than his struggles, victories, and accomplishments — of which he has many. We will always remember him as the man who met us with a ready smile, stories to share, and a big space in his heart. We will never forget his undying idealism that continues to inspire our new young leaders."
Carlos descended from a German businessman who settled in Pandacan, Manila. His father was a former military man who served as army judge advocate general at the height of the anti-Huk prosecutions in the 1950s.
As a Pandacan native, Carlos led a successful campaign that ousted the dangerous oil depots in Pandacan, Manila.
In 2008, Carlos founded Teatro Balagtas of Pandacan, a community of Pandacan-based young theater actors.
Carlos was one of the organizers of the Pandacan segment of the CCP's Performatura Performance Literature in 2017. It was held at the Balagtas Shrine in Pandacan, Manila. The segment included a performance and a tour. Carlos co-presented the Teatro Balagtas' stage play on extra-judicial killings in that part of the Metro. He also served as the guide of Lakbay-Kamalaysayan, a walking tour that highlighted the cultural and historical value of Pandacan streets. It was facilitated by his group Samahang Sining at Kultura ng Pilipinas.
Rene Ciria-Cruz, a childhood friend of Carlos, believes Carlos "embraced a meaningful task for our generation to take."
"His ceaseless work up to his passing signified his wish for new ones to take up the cudgels for a people long denied of justice and a better life. May your wish be granted, Jun, and thank you for all you've done for our cause," he wrote.
Jun Carlos died of leukemia at the age of 74.
His former wife, Cristine Ebro, wrote on Facebook that although she and Carlos were "divorced in the '90s," he became "one of the brothers I never had." She added: "He lived a very meaningful life for our people and country, and shared great lessons with me that help nourish my life's journey." They had two sons, Ellecer and Antonio.
One colleague also said this about Carlos: "Sixto could be one of the greatest. Prison didn't scare him, people didn't scare him — what would scare him [though] — was people who did not take responsibility [for] democracy — for a lifelong fight."
Boo Chanco wrote in his Philstar column: "Carlos captured the hearts of people whose lives he touched. He would have been a very compassionate doctor if he pursued his earlier intended course. Nevertheless, he lived a full life of service to the people."