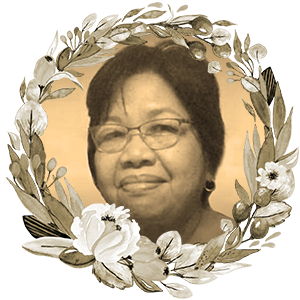 Publisher, Editor, Writer, Professor
1953 – 2020
LAURA SAMSON (1953 – 2020) was a publisher, editor, writer, and Professor of Sociology at the University of the Philippines. She was fondly known as "Ma'am Lau" among her students, friends, and colleagues in the academe. Her greatest legacy as a publications director was the completion of the 100 Taon, 100 Akda Project in 1998—UP Press' biggest and most ambitious publishing venture. It was also the university's contribution to the commemoration of the Centennial of the Philippine Revolution in 1998. The publication of 100 hundred books in 1998 rightfully brought back UP Press at the top of the country's publishing map when it came to academic and literary titles.
Samson was Director of the University of the Philippines (UP) Press (1995–2001); Editorial Consultant of Philippine Journal of Public Policy: Interdisciplinary Development Perspectives (2018 and 2019); Chairperson of the Department of Sociology, College of Social Sciences and Philosophy, UP Diliman (2002-2005); and Deputy Director of the UP Third World Studies Center from 2017 to 2019.
Samson was a prolific publisher, editor and writer; some of her books include Celebrating the Birth and Rebirth of the U.P. College of Liberal Arts (1910-1983), co-author, in 2011; Marxism in the Philippines, editor, in 2010; A Continuing Narrative on Philippine Theater: The Story of PETA (Philippine Educational Theater Association), co-author, in 2008; Parangal Sentenyal, author, 2008; and Ang Inukit na Kaalamang Bayan ng Paete, editor, 2005, for the National Commission on Culture and the Arts.
Samson also directed the publication of In the Shadow of the Lingering Mt. Pinatubo Disaster which won the National Academy of Science and Technology's Outstanding Publication award in 1994. She worked with the UP Department of Political Science and the Commission on Higher Education in 2006 for the publication of Philippine Politics and Governance: An Introduction and Philippine Politics and Governance: Challenges to Democratization and Development.
Samson was born on September 1, 1953. She graduated with an A.B. Journalism degree and M.A. Sociology from the UP-Diliman. Aside from sociological theory, she also taught and researched on popular culture, mass media, and cultural studies.
Ma'am Lau, though already retired, intended to teach again as professorial lecturer this school year 2020, ready to face the new challenge of online teaching. Her legacy lives on—through the numerous colleagues, students, and family that she had helped and mentored and through the hundreds of high-quality books and papers on social sciences, culture, and humanities that she had made possible.