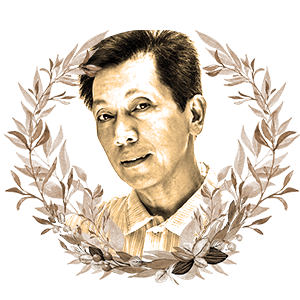 Educator, Performing Artist, and Dance Troupe Artistic Director
May 21, 1965 – November 3, 2021
Allan Lubian Concepcion was an educator, mentor, performing artist, and artistic director of the Sanglahi Dance Troupe.
Born in Manila on May 21, 1965, Allan Concepcion was a graduate of the Carlos P. Garcia High School and the Philippine Normal University. He became known as an inspiring, disciplined, and hardworking person not only to his family but also his students. He taught at the C. P. Garcia High School from 2001 to 2008, and was the department head of MAPEH (Music, Arts, Physical Education and Health) in the same school.
Concepcion, who was a long-standing senior member of the Philippine Baranggay Folk Dance Troupe, conceptualized the Sanglahi Dance Troupe in 2008. The members of the award-winning dance troupe are alumni students of Villamor High School. The troupe aims to preserve and showcase the multicultural aspects of Philippine life, customs, and traditions.
Concepcion's passion for the expression of local culture through folk dance has earned the company numerous citations and awards in the Philippines. Some of their awards include 5th place in the Sayaw Pinoy: National Dance Competition in 2013 to 2014, 1st place in the Sangyaw Dance Festival in 2011, Champion in the Sayaw ng Puso ng Kalayaan in 2010, and Gawad Manileno Outstanding Dance Troupe award in 2011.
The company flourished under Concepcion's artistry and guidance, and continues to inspire others in the appreciation of their own arts, culture, and traditions, particularly in folk dance and music. Their folk dances originate from all over the country, from the mountains of Cordillera to the diverse communities of Mindanao.
On November 3, 2021, Concepcion passed away after a long battle with diabetes. His loss was greatly mourned, especially by the many members of Sanglahi Dance Troupe who left heartwarming comments on the troupe's Facebook page. His former students thanked him for his advice and the memories they shared. One comment, from Manny Santos, reads, "Thank you, Sir Allan, for believing in our talents and for guiding us."
He was an example of kindness and inspiration to many, whether as a mentor, a performer, a father figure, and a friend. "He would want us to lift each other and remain strong in the face of such loss," said members of the Sanglahi Dance Troupe, who will surely carry on Concepcion's legacy well after his passing.