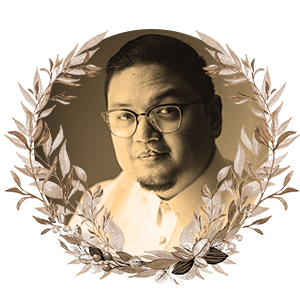 Multimedia Designer, Director, and Educator
April 21, 1988 – April 4, 2021
Mark was a cum laude alumnus of the De La Salle-College of Saint Benilde and served as a part-time faculty member from 2008. He taught advanced video post-production classes and basic digital video for multimedia applications. Because of his high standard and enthusiasm for teaching, he went by the title "multimedia arts god" (MMA god) and was well-loved by his colleagues and students.
One of Mijares's former students, Iar Lionel Benjamin Arondaing, credited his professor for his Filipino Academy of Movie Arts and Sciences (FAMAS) Award win in 2018 for visual effects in the film Instalado (2017).
Mijares was a senior online editor at PostManila, Inc. from 2008 to 2010, and the art director and senior online editor at Fluidpost from 2011 to 2021.
He directed and edited various television commercials and corporate videos. His works included "Let Go," a personal short film published on Vimeo, and "Senti," a Moonstar88 music video. He won the best director award at the annual Philippine Women's University (PWU) Film Festival for his short video thesis entitled "Larawan."
He also provided artistic direction and creative input for the audio-visual presentations of several companies and institutions such as AFC Manila Youth Event and Philippine Estates Corporation, and created the Antrapharm corporate profile, Philippine E-Sports Network profile, the Christmas music video of the Lasallian Ministry Office, and the 2007 President's Report of De La Salle Philippines.
His entrepreneurial drive made him launch his brainchild company Muvo Media (2015), an "independent micro-video production company that aims to produce different content that will move and inspire its viewers." It was always his goal to arouse the viewers' emotions through his works. At Muvo Media, he worked with prominent local and international brands like Asia's Got Talent, Jetstar, Starbucks, Ford, Marina Bay, and Harvard Business Publishing.
As Mark gained popularity and success, he did not forget to give back to his community. His passion for the arts was not limited to his workplace and the academe. He used his artistic zeal to serve the church and the people, remaining true to his personal advocacy of "using the power of media in spreading God's word."
He used his musical talent in performing as a bass guitarist for Agape Family Center's music ministry, and became a member of its multimedia group. He also created videos for a missionary-sending organization called "International Teams Philippines" and the various ministries under it.
He passed away on Easter Sunday 2021 due to COVID-19.
He left a mark in the Philippine video production industry as a multimedia artist with a firm sense of his Christian background.
Mark was a caring, compassionate, and kindhearted person who frequently did acts of volunteerism. It was how his wife Angela Sison-Mijares knew him, and it is how she wants him to be remembered. When the pandemic broke out and face masks became scarce, he handcrafted reusable masks at home using 3D printing and vacuum forming technology and donated them to various hospitals, non-government organizations, and the Office of the Vice-President.
In an article for The Benildean Beatrice Quirante wrote: "Mr. Mijares was remembered as a humble and enthusiastic professor who "set their [his students'] creativity into motion, leading them to find comfort and excitement in the complexities of motion graphics and video editing…."
Engr. Daniel Enriquez, Mijares' friend, said Mijares always wanted to "leave a mark in this world," and he believes he did exactly that. "Mark really made a mark with us…We have to remember that we are here in this world, not because we want to do things we want to do, but because we also want to be part of the lives of other people; and Mark being a teacher, a good friend, and a good husband…He really proves that."