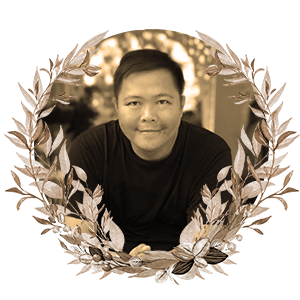 Playwright, Scriptwriter, Director
August 18, 1968 – July 13, 2021
https://www.facebook.com/JDennisCTeodosio
Jose Dennis C. Teodosio was an educator, director, and an award-winning playwright, who wrote prolifically for television, cinema, print, advertising, and the stage.
He was born in Valenzuela City to Sonny Teodosio and Salvacion Constantino Teodosio. He attended the Philippine College of Technological Resources (now St. Louis College of Valenzuela) High School, graduating in 1984, and the Pamantasan ng Lungsod ng Maynila, earning a journalism degree in 1990.
Upon graduation, he became the office manager for W. Brown in Isetann Recto—but the dream to write and to teach beckoned. He was a fellow for poetry in Filipino for the University of the Philippines National Writers Workshop in 1996, which made him discover a love for playwriting. In 1998, he became a senior consultant for SpeechPower.
In 2000, to allow himself more time to write plays, he decided to go freelance—a newfound zeal that saw him garnering second prize for the screenplay "Sirena" at that year's Don Carlos Palanca Memorial Awards for Literature.
In 2001, Teodosio was invited to join The Writer's Bloc. By 2005, he became a member of the writers' pool for the Philippine Educational Theater Association (PETA) and was also doing commissioned work as playwright for the Gantimpala Theater Foundation, and later for Tanghalang Pilipino and Artist Playground.
Between 2002 to 2014, he won five other Palanca awards — for screenplay, teleplay, one-act play, and essay in Filipino.
Other awards for plays and screenplays followed from the National Commission for Culture and the Arts, Gawad Ka Amado, the PBBY-Salanga Writer's Prize, Gawad Teatro Bulawan, CineManila International Film Festival, Star Cinema, Viva Films, Philippine Pink Film Festival, Film Development Foundation of the Philippines, Film Academy of the Philippines, Anak TV, Gawad Tanglaw, Aliw Awards, Migration Advocacy & Media Awards, China-Southeast Asia-South Asia TV Arts Week, and the Asian TV Awards.
In 2007, he was once more invited by the U.P. National Writers Workshop to be a mid-career fellow for the one-act play in Filipino in 2007. He was also a scholar of the 1st ABS-CBN2/Ricky Lee Course in Soap Writing, and was part of the Star Cinema Concept Development Group.
Teodosio wrote 40 stage plays, including an impressive portfolio for the Virgin Lab Fest which includes 11 works, including what is perhaps his best known work, Gee-Gee at Waterina (2005), which had a short film adaptation in 2006 that he directed. In 2018, Artist Playground adapted it into a musical.
In 2011, he was invited to do a 10-day scriptwriting workshop for Forever Group Co., a leading media conglomerate in Yangon, Myanmar—which soon became a permanent position, starting in 2012, to develop and write TV series and programs for the media group, and design and conduct training programs for the Myanmar Media Development Center (MMDC).
Teodosio also founded The Creative Playground, an informal film group composed of young Filipino and Myanmar media professionals, which aimed to produce groundbreaking initiatives in film and TV. The short films he directed in Myanmar were also screened in film festivals in Yangon, Manila, and New Delhi, among others.
He said he was "the first Filipino consultant to help out in the fields of scriptwriting and media training. I was privileged to have been given the chance to create, develop, and write several groundbreaking and top-rating TV shows shot in full HD."
Teodosio's first program for them was the romantic drama, The Sign of Love, which successfully propelled Myanmar's position in the TV series map in the region. In 2013, it garnered major nominations at the Seoul International Drama Festival and won, for Myanmar, the highly-coveted Camelia Award at the 4th China-Southeast Asia-South Asia TV Week.
He also used his position to advocate, promote, and revitalize the image of Filipinos overseas. Through e-Dyaryo, a monthly electronic newsletter, he documented the stories and experiences of Filipinos in Myanmar, supporting the information dissemination drives of the Philippine Embassy and the Filipino community in Myanmar.
In 2018, the Office of the President and the Commission on Filipinos Overseas named him one of the recipients of the Pamana ng Pilipino Award, a presidential recognition for Filipino individuals and organizations overseas.
He died from complications of COVID-19.
Playwright Glenn Sevilla Mas said of him: "His family, friends, colleagues, and students will forever remember and celebrate him for his humility, laughter, wit, and comforting presence. He will be sorely missed."
When he received the 2018 Pamana ng Pilipino Award, Teodosio assessed his life and work as a measure of inspiring others: "I firmly believe that success isn't just about what you accomplish in your life. It is about what you inspire others to do. Because of this, I always strive to do my best. By doing so, people get to recognize me as a man of value.
"I live a simple life…I pray. I hope. I dream. Every time a student says, 'You inspired me, sir. I wish to be like you,' I feel successful in my chosen field—many times, many folds."