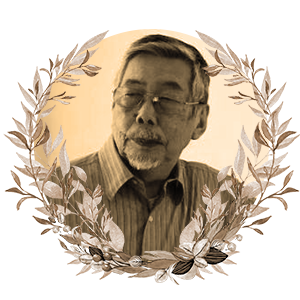 Visual Artist, Watercolorist, Art Conservator, and Teacher
July 28, 1936 – January 15, 2022
Angelito L. David, also known as Lito, was an award-winning artist who exhibited his work both locally and abroad. He was a visual artist, art conservator, and teacher.
Born and raised in Balanga, Bataan, Lito graduated with a bachelor's degree in fine arts from the University of Santo Tomas in 1957. He was a scholar of the Italian government from 1963 to 1965, studying painting at the Accademia di Belle Arti di Roma and fresco painting at the Scuola Ornamentali di Roma from 1965 to 1967. His first exhibitions were held at the Philippine Art Gallery and Solidaridad Gallery.
He held positions in the Art Association of the Philippines and co-organized the Watercolor Society of the Philippines.
Lito's awards recognized his great works, especially as a watercolorist. In the Philippines, his work received the Best Watercolor Award at the 12th Art Association of the Philippines (AAP) Annual Art Exhibition in 1959, Best Watercolor Award at the 14th AAP Annual Art Exhibition in 1961, Watercolor of the Month Award from the Watercolor Society of the Philippines (WSP) in February 1978, Best Watercolor of the Year Award- WSP in December 1978, and Watercolor of the Month Award- WSP in 1979.
While living in Rome from 1962 to 1967, he exhibited his works there and brought glory to the Philippines for receiving the following: Gold Medal- IV Rassegna Estemporanea Internazionale Di Casino in July 1963, Gold Medal- Estemporanea Nazionale di Pittura di Rieti in June 1964, Gold Cup- 2a Mostra Internazionale di Pittura Estemporanea di Sabaudia in June 1965, Gold Medal- Fregene, Italy in August 1966, and Gold Medal- Sermoneta, Italy in October 1967.
In 1992, he migrated to the United States and became a member of the New Jersey Watercolor Society, Garden State Watercolor Society, and Hudson Artists, Inc. in 1993. He co-founded the Society of Philippine American Artists.
He won several awards there as well, as he continued to join exhibits that were later moved to the digital platform. His work "Magnolia 3" won first place in the Watercolor, Professional category at the 2021 Union County Senior Citizen's Virtual Art Exhibit organized by the Union County Office of Cultural and Heritage Affairs.
Lito's Birds of Peace (1989, acrylic on wood) is part of the visual arts collection of the Cultural Center of the Philippines (CCP). Art critic Cid Reyes said about the piece, "A gestural abstraction by Angelito David is a suggestive 'reconfiguration' of the Philippine tricolor. The brushstrokes of red, white and blue are regarded by turns as mere abstractionist impulse and imagery that can fire patriotic yearnings."
Aside from being a watercolorist, Lito was a restorer of rare documents and books, as he had certificates in document restoration, bookbinding, and preservation from conservation studies in Italy. According to the CCP Visual Arts and Museum Division, Lito was commissioned by the National Archives of the Philippines to help preserve 16th- to 17th-century manuscripts in 1970 to 1972.
He also taught fine arts for more than 22 years in several colleges and universities while restoring and preserving the works of old Filipino masters.
He was awarded the Pamana ng Pilipino (Philippine Heritage) from President Benigno S. Aquino III in 2010 as one of the outstanding overseas Filipinos.
Lito was 86 when he passed away on January 15, 2022 in the United States.
He enjoyed music as well, and was a member of the town band playing the clarinet, though art was always his first love. "If he were not a visual artist, he would have been a concert violinist," said writer Rey E. de la Cruz, Ed. D.
Lito collaborated with many artists, and one of them was stage and film actress turned book author Lorli Villanueva. She posted these kind words on her social media: "Thank you, Lito David, for the illustrations in my book Living and Experiencing the Realm of the Unknown (2017). They are beautiful watercolor paintings! I am so proud having an award-winning painter contribute his talent for my book! Thank you, Lito. Forever grateful."
Lito's works can be viewed at http://www.angelitoldavid.com. His son, Timmy David, created a Facebook page to feature and share his father's artworks: https://www.facebook.com/AngelitoLitoDavid/
About his craft, Lito said: "To me, watercolor is like taming a stallion—I have to know the horse and the horse has to know me. We need to be together constantly until we begin to like each other and develop a relationship."