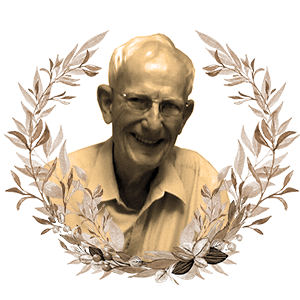 Development Worker, Activist, Culture Advocate
February 11, 1936 – November 20, 2020
Frans Kleine Koerkamp was a Dutch-born development worker, social entrepreneur, activist, and culture advocate who championed bamboo as a sustainable material for construction and various other uses, and helped spearhead its use via cultural events, lectures, and symposia.
He was born in Raalte, Netherlands to Johannes Kleine Koerkamp and Antonia Maria Klomp, but lived most of his life—56 years—in the Philippines, 26 years of which he lived in Dumaguete City, Negros Oriental.
He trained and was ordained into the priesthood and was sent to the Philippines as a Carmelite missionary in 1964 at the age of 28. He was stationed in Escalante, Negros Occidental for eight years, in Iligan City also for eight years, and in Manila for 14 years, always working with the poor and the working class, especially sugar workers, farmers, and industrial workers in factories. His missionary work was strongly colored by his views on social abuses.
In 1980, he obtained permission from his superiors in the Netherlands to leave the priesthood. He married Melvin "Inday" Rabelista from Escalante, who was also an active social worker. As a couple, they fought for the rights of oppressed women and children. During work-related travel, he chanced upon Dumaguete, and decided to settle there in 1994 with his family.
Inday and Frans became two of the city's fiercest advocates for culture, the care of nature and the environment, the defense of abused women and children, and the defense of human rights.
In 1996, he helped local farmers in the towns of Bacong, Valencia, Dauin, Zamboangita, and Siaton to develop products from bamboo, a neglected resource long considered the "poor man's lumber." Months of consultations, education, and awareness fora explored the potential of the bamboo for local rural livelihood, which soon empowered the farmers and netted them earnings from the woody grass. They also began to realize how bamboo could help prevent erosion, and be used as a storm shield for their plants and houses.
In 1998, the Buglas Bamboo Institute Inc. was established to facilitate support for the farmers from government and non-government agencies, and from individual sustainability advocates. Bamboo production expanded from furniture-making to house construction, the making of musical instruments, and engineered bamboo tiles.
One of its initiatives was holding various cultural fora to educate people further on the importance of the bamboo, including delving into the plant's local mythologies, especially the story of the first Bisayan man and woman—Silalak and Sikabay—who came from a split bamboo. Frans' efforts led to sustained initiatives for bamboo by government and non-government organizations, such as the Kawayan Collective in Zamboanguita.
He was a consistent patron for cultural work and initiatives in Negros Oriental, helping support the Silliman University Culture and Arts and Council and the Youth Advocates Through Theater Arts.
Bert Reuvekamp, chairman of a foundation called Stichting RedHorseCompany, announced Kleine Koerkamp's passing on Facebook, writing: "In him we lose a special person, an inspirer and worker for a better world, an example for many."