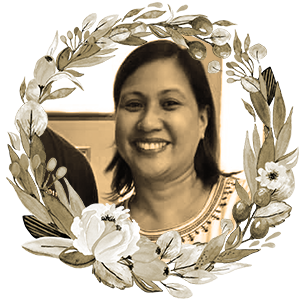 Theater and Film Actor, Production and Stage Manager, and Events Coordinator
February 10, 1970 – October 22, 2020
Marilou Garingalao–Kho (February 10, 1970 – October 22, 2020) was a champion of the arts who was involved as Production Manager in major theater companies as well as several momentous national celebrations in the Philippines.
She worked as a Resident Assistant Production Manager at the Tanghalang Filipino Foundation, Inc., the Resident Theater Company of the Cultural Center of the Philippines (CCP), from June 1993 to April 1996, and as its Stage Manager from June to July 1996.
Company Manager Joven G. Reyes tells of her thus: "She has exhibited the qualities of reliability, commitment, and professionalism to the company."
As a project coordinator, she managed the administrative aspects of various events at the Committee on Centennial Events and Activities of the Philippine Centennial Commission at the CCP (July 1996 – May 1999). She was also involved in the production of "Sigla ng Siglo" (May 1998 – June 1999), directed by Joel Lamangan (produced by the Philippine Tourism Authority and CCP and aired on PTV-4 and GMA-7), and the "Centennial Celebration of the Cry of Pugad Lawin" (August 1996) by the Philippine Centennial Commission and CCP, aired at PTV-4.
In 2005, she joined ABS-CBN Bacolod as a Segment Producer. She later became an Associate Producer of the variety show "Sabado Barkada" and the game show "Kapamilya Mas Winner Ka" from the same network.
Marilou formalized her theater training when she majored in Theater Arts (Batch 1994) at the University of the Philippines – Diliman. She furthered her acting prowess by completing the Advanced Acting Workshop of the Dramatics Arts Division at the CCP's Tanghalang Huseng Batute from May 17 to June 14, 1999.
As a theater artist and movie actress, she played a leading role in "The Arrival" (2009), a small personal film by Filipino filmmaker Erik Matti, and the "Island of Dreams" (2019) by the same director. She also appeared in international and local films, TV shows, and commercials, including "Bayani" (1992), a semi-biography of Philippine hero Andres Bonifacio by Director Raymond Red.
With her diverse education and rich production experiences, she established Snappin Media Production on June 14, 2018. She started producing local TV and radio advertisements, vignettes, documentaries, events coordination, shows, and talent coordination.
Marilou told her associates about the company: "I should emphasize that the success of this production does not rely on me alone but on our commitment, sincerity, and excellent service."
Snappin's Supervising Producer, Jonali Visitacion, describes her thus: "Marilou is so organized and almost perfect when it comes to preparation and attention to detail. She is very generous, kind-hearted, and ready to help and share her blessings. She is an extra miler, giving her best to every role and responsibility assigned to her…"
As the eighth daughter of Engineer Carlos and Pharmacist Teresa Garingalao, she also managed their family's pharmaceutical and petrochemical businesses (2016-2020) while coordinating events on the side. She was affiliated with The Events Planners Inc. from November 1999 to February 2000.
She had ovarian cancer, leading to her demise on October 22, 2020. She was survived by her husband, businessman Kenneth Kho and their two children, John Christian and Ana Louisa.
Marilou was a family woman and a very supportive mother to her children.
About her mom, Ana Louisa shared: "She is my favorite person ever. She was always very supportive of my brother and me. She would always watch my swimming competitions [and] never missed one unless she was very busy. She always helped me with my schoolwork by correcting my grammar and essays. She is my inspiration in everything I do, and I hope to be like her."
Her Tanghalang Pilipino constituents remember Marilou for her signature smile and sincere affection.
Multi-awarded actor and environmentalist John Arcilla recalls thus: "It hurts me so bad hearing sad news about the nicest person, one of the kindest hearts I have ever known with such a beautiful Filipina face whom I worked with in Tanghalang Pilipino during my Actors' Company years. Marilou Garingalao-Kho had this meekest, gentlest shy smile but a strong sense of self… I still feel your fondness, kahit magkasalubong lang tayo minsan sa corridor, or [when] I just passed by the office. We will never forget you. Your presence and that sweet smile are unforgettable."
Pambansang Alagad ni Balagtas and Palanca Awardee Glenn Sevilla Mas, who was also with her at Tanghalang Pilipino, writes about her: "Mami-miss ka namin, Marilou. Salamat sa ilang taóng pinagsamahan sa TP. Salamat sa kumustahan, sa kuwentuhan, tawanan. Rest in eternal peace. Mahidlaw gid kami sa imo."