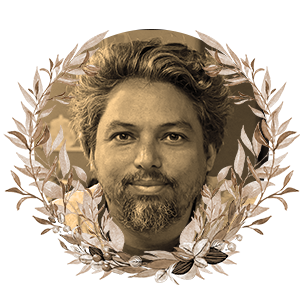 Filmmaker, Visual Artist, Husband, and Father
May 28, 1975 – March 8, 2022
Kidlat Gottlieb Kalayaan De Guia was the first child of National Artist for Film and Broadcast Arts Kidlat Tahimik (Eric De Guia) and German artist-academic Katrin De Guia. Kidlat De Guia was married to theater artist and editor Lissa Romero De Guia, with whom he had two children, Kalinaw and Amihan.
When he was barely a teenager, Kidlat already knew how to develop and print black-and-white images inside the darkroom. His brother, Kawayan, wrote that as a young boy, Kidlat had a flair for operating mechanical gadgets and fixing tech issues. He was "Mr. Troubleshooter, their go-to guy."
From Baguio, where the family was based, Kidlat went to the Philippine Science High School, and then to the University of the Philippines Diliman, Quezon City for a degree in Mass Communication. He was a natural storyteller, something that his father noticed early when he said that Kidlat saw the world through a unique frame.
As someone who had many interests and talents, Kidlat worked as a filmmaker, visual artist, director, photographer, editor, and cinematographer. He produced, directed, and edited commercial and personal projects like documentaries, independent films, and advocacy materials.
Social issues were naturally a common thread in many of his works, like the films about the peace initiatives in Mindanao, video materials for non-government organizations like the International Alert in London, and the short international video that he did with Agam Agenda for the Climate Vulnerable Forum's global campaign. In 2001, Kidlat was the country winner in Discovery Channel's First Time Filmmaker Initiative. He also received the 2003 Award of Excellence for his film "Banal Tubig Banal Kahoy" at the Aqua Planet Video Festival.
Kidlat loved photography and learned from the best. His mentors included Emmanuel Santos, Angel Shaw, Mark Gary, Wig Tysmans, and Tommy Hafalla. Some of his photo exhibits included his 2001 solo exhibition at Silverlens, "Slice," a collection of images taken around an abandoned mini golf course in Baguio; the 2007 show with his siblings, "KKK: Photographs by Kidlat, Kawayan, and Kabunyan De Guia;" and his exhibits of woven photographs– "Woven into Being," "Engkwentro," and "Araw-araw, Habi-habi.".
In 2009, Kidlat was shortlisted for the Ateneo Art Awards for his 2008 photography exhibit, "Sleeping White Elephants," a showcase of Manila's unfinished high-rise buildings. And in 2019, his travel photographs were featured in an exhibit called "Stalking Solitude."
At the time of his sudden death due to natural causes in March of 2022, Kidlat was in Spain to help dismantle his father's epic installation at the Palacio de Cristal, "Magellan, Marilyn, Mickey, and Father Damaso: 500 Years of Conquistador Rockstars." Just before he passed on, Kidlat was doing a documentary, "Rangtay Papan Idjaybangir" (Bridge to the Other Side), a project with the Film Development Council of the Philippines (FDCP) that he had been working on for eight years. At the same time, Kidlat was also helping establish a cinema center in Baguio and working on his father's collection via the Philippine Film Archive.
The Philippines' arts and culture landscape is brighter and richer for Kidlat De Guia's contributions: his work, his life, and his light.