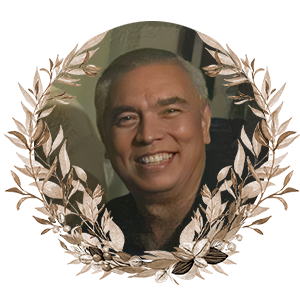 Visual Artist, Art Patron, Cultural Preservation Advocate
August 25, 1956 – April 29, 2021
Serafin Miguel Diaz Teves III, Nito to friends, was a nurse, visual artist, art patron, and vocal advocate for local cultural preservation.
He was born in Dumaguete City, Negros Oriental, to Serafin Montenegro Teves, a former vice mayor of Bais City, and Maria Luisa Carmen (Malueca) Arnaiz Diaz. He studied briefly at Silliman University from 1973 to 1974, before transferring to De La Salle University-Manila where he graduated in 1981.
He worked in various capacities in banking, finance, and insurance, before returning to Silliman University, graduating with a nursing degree in 2007. He then served as nursing supervisor at SureCare Home Health Services, then as nursing supervisor at Affinity Home Health Care.
Teves also worked for the Philippine Coconut Authority, SL Teves, Inc., and SL Teves Realty Development Corp.
As a visual artist, he was part of an art exhibit in 1985 in Bais City, a Cebuano art exhibit in 1988 at the University of San Carlos Museum in Cebu, had his first solo art exhibition in 1989, participated in the Negros Oriental Art Exhibit in 1990, and was part of the group exhibition Taguik-Diwa in 1992. He also dabbled in film.
Teves was also proprietor and lead designer of Obras de Cuero, a shop that specialized in leather crafts in Dumaguete. He was president of the Philippine Chamber of Handicraft Industries from 1993-1994.
He was an advocate of preventive conservation for local cultural heritage in Negros Oriental as well as a patron of emerging artists, supporting exhibits at the Dakong Balay Gallery located at the Serafin Teves ancestral home.