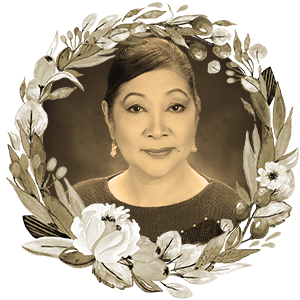 Dancer, Dance Company Executive Director, Academic, Mentor
April 1, 1951 – March 28, 2022
Maria Azucena "Suzie" Moya Benitez, PhD, started out as a dancer for the Bayanihan National Dance Company of the Philippines, founded by Dr. Helena Z. Benitez. With her doctorate and background in foreign public administration, economics, and social development, Suzie eventually devoted all her time to the Bayanihan Folk Arts Foundation as its trustee and executive director, and to the Philippine Women's University (PWU), the institution where it was founded, as associate vice president of its Campus Life department.
Over the years, Dr. Suzie Benitez proved not just a graceful dancer, but a competent leader and grand visionary. She led the Bayanihan in numerous concert tours in Europe, the United States, and Asia, where they won in international competitions and had sold-out performances in every destination. She was sought after as a juror in various competitions and was elected as chair for Asia of the Federation for International Dance Festivals.
She did not stop there. Always thinking of cultivating appreciation of and love for dance as part of our culture, Benitez developed modules in dance and the performing arts, authored workbooks, and wrote the Bayanihan book "60 Years Fulfilling the Filipino Dream."
For these and many other achievements, she was named a Leader in Arts and Culture by the National Council of Women in the Philippines and one of the 100 Most Influential Filipinas in the World by the Filipina Women's Network in 2013.
She believed that dance, like other cultural endeavors, bridges gaps and helps communicate with others. "They are irreplaceable tools for fostering understanding among the diverse people of the world," she said in a 2016 interview.
Benitez died of a heart attack while undergoing treatment for pneumonia last March 28, 2022.
Bayanihan members whom she mentored paid tribute to her on social media. Irina Feleo said she would always be thankful to Benitez for training her to be graceful not only in dance, but in life. Ching Danseco spoke on behalf of batchmates in thanking her for embracing them in the company that molded them into who they are today.
Emil Dimitrov said he was honored to collaborate with the Bayanihan for 19 years, and mourned the passing of "a great human being, professional, teacher, person we all admired, director and leader."
PWU President Marco Alfredo Benitez, speaking on behalf of his sister Marielle and brother Marton, described Dr. Benitez as a mother who was graceful, prim and proper, but quite strong-willed and who cherished quality family time above all. She reveled in her children's accomplishments big or small. She instilled in them the need to be upright individuals and good role models because they did not just represent themselves but their parents and forefathers. She valued family and the passing of family legacy.
Dr. Suzie Benitez steered the Bayanihan to excellence and brought pride and honor to the Philippines. She nurtured her children to be citizens contributing to their community and country. Indeed, her life was grace, defined by high standards – and great love.