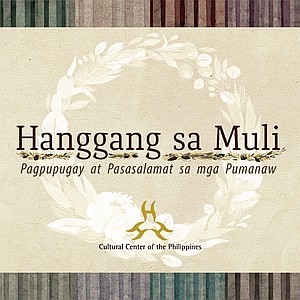 Dedicated actor, director, and writer; mentor to theater artists
19__ – 2020
SIEGFRIED SEPULVEDA (19__ – 2020), also known as Direk Sepoy, was an actor, director, and writer. Throughout his career, he was a passionate supporter of the performing arts and artists. He was also treasured by colleagues and friends as "a sharing and caring theater artist" said fellow actor George Vail Kabrisante.
Sepulveda dedicated much of his time honing local talent in theater and the allied arts, as well as practicing his own craft onstage and on-camera.
Sepulveda began his theater career as one of the first students of Philippine theater stalwart Cecile Guidote-Alvarez, when she put up the Philippine Educational Theater Association (PETA). Years later, Sepulveda was appointed theater director/mentor for the Philippine Center for International Theater Institute (ITI), under his mentor Guidote-Alvarez, ITI's executive director and founder. (ITI's honorary president was National Artist for Literature Dr. Alejandro Roces.)
Guidote-Alvarez tasked Sepulveda, along with a few of his PETA colleagues to each put up a theater company and lead it as its artistic director.
Sepulveda formed Tanghalang Balintataw with fellow actor Joe Gruta; colleagues George Vail Kabristante and Marcelino D. Cavestany, Ph.D., in turn put up the theater group Balintataw Film & Theater Arts. These groups would consider the Parks and Wildlife Bureau (PAWB) their headquarters, as the park was their mentor Guidote-Alvarez's base of operations.
Later on, Sepulveda founded Sentro Entablado Pilipino (SEP, formerly Dulaang Balintataw – Sining Sambaydiwa, of which Sepulveda also served as the founding president), a non-stock, non-profit company dedicated to training and producing for theater and the allied arts. Sepulveda designed classes in basic, intermediate, and advanced theater arts for both children and adults, as well as courses in acting onstage and on-camera.
Guiding budding talents in theater and the allied arts was not all the Sepulveda did. After all, first and foremost, he was an artist and he needed to perform.
One of Sepulveda's most memorable performances took place in the Cultural Center of the Philippines' Tanghalang Huseng Batute in 2011 during CCP's two-week run of Virgin Labfest 7. Sepulveda was the lead in Russel Legaspi's The Valley Mission Care, one of the 10 plays staged during the Labfest.
"The Labfest's most poignant performance…belonged to Siegfried Sepulveda," writes theater critic Gibbs Cadiz, citing Sepulveda's role as a friendless widower living in a nursing home in the US. In the last minutes of the play, Sepulveda, acting wordlessly in one part of a scene, delivered a profoundly moving performance, says Cadiz.
Sepulveda also worked beyond the theater stage. He was one of the screenwriters of The Trident Force (1989), a film with an international cast and crew. In the same year, Sepulveda was a cast member of Driving Force, also with local and foreign cast and crew members.
According to Kabrisante, all of Sepulveda's accomplishments in and dedication to the theater arts will not be forgotten by his friends, fellow artists, and admirers. "Sepoy's legacy remains and multiplies in the hearts of those he has touched."