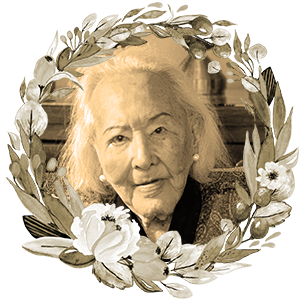 Awardee of the Gawad CCP Para sa Sining (1994) and Premium Performer for Vaudeville, Film and Television
November 23, 1924 – June 10, 2020
Alicia Bueñaflor Lake, who took the screen name 'Anita Linda,' had a long and rewarding career as a film and television actor, winning acting awards well into her 80s and 90s.
She received the Gawad CCP Para sa Sining in 1994, and the Natatanging Gawad Urian (Lifetime Achievement Award) from the Manunuri ng Pelikulang Pilipino in 1981.
She was born in Pasay City to James Lake, an American soldier and mining engineer, and Gorgonia Buenaflor of Iloilo City. She attended Polo Elementary School and Good Shepherd Convent High School. Later she married actor Fred Cortes, and bore two children, Francesca Lake-Legaspi and Fred Osburn (a.k.a. Fred Cortes Jr.).
She was discovered by director Lamberto Avellana, who later became National while she was watching a stage show at Avenue Theater. The Visayan-speaking lass who couldn't speak Tagalog first used 'Anita Linda' as a screen name in the LVN flick 'Tia Juana.' She performed in vaudeville shows during the war. Her first lead role was in 'Alyas Sakim' in 1947.
In the early stages of her career, she was often cast as a romantic lead, but later essayed tougher roles, earning the Best Actress honor at the Maria Clara Awards for 'Sisa' in 1951.
As she aged, she excelled in portraying older women and maternal roles. For her portrayal of 'Adela' in 2008, Linda, at the age of 83, was named Best Actress at the Southeast Asia Film Competition of the 10th Cinemanila International Film Festival; won the Gawad Tanglaw Awards (tied with Judy Ann Santos); and was bestowed the Best Performance Award at the 2009 Young Critics Circle Film Desk citations.
Linda's performance in 'Adela' was hailed as "quietly transfixing" by Stephen Holden, a film critic from the New York Times.
She reaped Best Actress awards for 'Lola' at the 2011 Las Palmas de Gran Canaria International Film Festival (shared with Rustica Carpio), the 2011 Fajr International Film Festival, the 2010 Asia-Pacific Film Festival, and the 2011 Gawad Urian.
Linda also won several Best Supporting Actress trophies and was nominated for many others as well.
In her last film, 'Circa,' screened at the 2019 Pista ng Pelikulang Pilipino, she played the role of a dying film matriarch celebrating her 100th birthday with the people who have touched her life.
She passed away at the age of 95, having acted in an estimated 384 films or shows over the course of 70 years, while her IMDb page lists 398 acting credits.
In June 2019, Anita Linda was honored by the FDCP in "Sandaan: Dunong ng Isang Ina," for her contributions to Philippine cinema. She was also recognized as the oldest actress in the film industry at the time.
On that occasion she said, "Somebody up there must love me because I am still here. I am grateful."