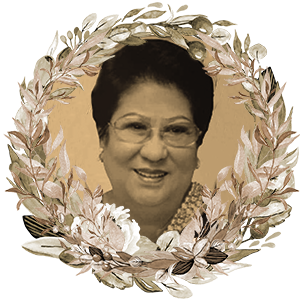 Entrepreneur, Philanthropist, Teacher
March 23, 1937 – October 3, 2021
Leticia Lolita Olalia Hizon, fondly called 'Apung Lolet,' was the founder of Pampanga's Best meat processing corporation. She was also an entrepreneur, philanthropist, and teacher.
An idea for a business came to her when her meat vendor neighbor asked her to buy their five kilos of unsold pork. Hizon revisited the traditional Capampangan 'pindang' (fermented pork) recipe, and formulated a sweet-salty pork dish – 'tocino' – that many Filipinos know and love.
"So, what started out as just a neighborly gesture to help a friend has turned out to be the cornerstone of a business and a staple item on the Filipino breakfast table," Pampanga's Best said.
Hizon resigned from a job teaching at a public elementary school and founded the company in 1967 with an initial capital of P3,500 from a ring she pawned. The company is now worth many millions of pesos.
From tocino, which was originally formulated by Hizon, Pampanga's Best now produces hotdogs, longganisa, ham, bacon, tapa, burger patties, corned beef, embutido, barbecue, and nuggets. Hizon's face became the logo of the homegrown brand.
Some of its products are now exported to Dubai, Hong Kong, South Korea, Singapore, and some countries in the Middle East.
When asked about the secret behind her success, Hizon said, "It's love and compassion, and I believe it is more of a divine plan. All these years, I see a visible hand guiding us always for a purpose. I would say it is Divine Providence — that is the secret."
Hizon was also a philanthropist who served the Pampanga communities of San Fernando and Bacolor. In 1991, she helped Bacolor rise from the 1991 eruption of Mt. Pinatubo by building classrooms, constructing homes and the municipal hall annex, and employing residents. She also founded the Ing Bayung Cabalantian (Ibaca) Foundation.
She was also the first woman to be elected to the San Fernando legislative council.
Hizon succumbed to renal failure at the age of 84. She is survived by her husband Angelo, their 12 children, 61 grandchildren, and 31 great-grandchildren.
"As the founder of Pampanga's Best, the inventor of the original tocino, and as a philanthropist in her community, her contribution to the Philippines' economy is immeasurable. Likewise, her influence on Filipino cuisine cannot be overstated," her daughter Angelica Hizon-Pierson wrote on social media.
According to Hizon's loved ones, their Apung Lolet was "the epitome of beauty, strength, generosity, faith in the Lord, and love for family which will be hard for them to forget."