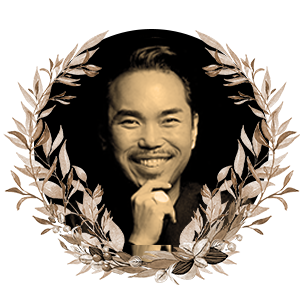 Designer, Graphic Artist, and Entrepreneur
September 26, 1977 – July 27, 2020
BRIAN TENORIO (September 26, 1977 – July 27, 2020) was a much-beloved and admired Filipino-American designer and graphic artist. His prodigious talents allowed him to wear many hats: strategic design and communications specialist, shoe designer, café proprietor, and LGBTQIA advocate.
Tenorio was founder and CEO of design firm Brian Tenorio & Company. He received awards for his designs for clients such as Jaime Zobel de Ayala, the National Commission for the Culture and the Arts (NCCA), and the Cultural Center of the Philippines (CCP).
He was an International Consultant for Branding and Identity Design at the Asian Development Bank (ADB), and was also an International Design and Branding Consultant for the Western Pacific Regional Office of the World Health Organization (WHO).
He was always brimming with ideas; and advocated promoting Philippine/local business and brands before it became "cool."
He wanted to revive the shoe industry in his home city, Marikina, so upon his return to the country, he launched his own shoe brand Tenorio Manila – a high-end men and women's accessories and shoes startup — to promote locally-made footwear. His hometown Marikina gave him a marker for his work in promoting its shoe industry.
While taking his Masters at Pratt (Institute, New York) he launched a locally-made, designer casket line called Lux Mortem for Manila's upscale funeral parlors. Much later, he started the coffee venture Kape Tayo, which promoted Philippine coffee beans and native snacks.
He taught design, communication and entrepreneurship at SOFA Design Institute and his alma mater. A "creative luminary, design advocate," he was one of the founding directors/ board members of the Communication Design Association of the Philippines (CDAP).
"Design is one of the most powerful forces in our lives. Designing for impact creates positive lasting change — for commerce and industry, the environment, culture, and for our society and communities, through time and space," Tenorio once remarked in one of his public statements.
He was "Chief Experience Officer" of Pilipinas TeleHealth, a company that offers services in distance medicine; and the MindCare Club (MCC), which focuses on the treatment of mental health issues. He dreamt of designing spaces "where mental health services [could] be accessed more easily without stigma." According to MCC, "Ultimately, Brian thought of design as a way to bring people together and to make the world a better place."
Tenorio was also founder and former chair of the Philippine LGBT Chamber of Commerce, which supported LGBT people in business.
Tenorio majored in Communications at the Ateneo de Manila University where he received a Dean's Award for the Arts in Graphic Design. He graduated with a Pratt Institute Circle Award upon earning a Masters of Professional Studies in Design Management from the Pratt Institute in Brooklyn, New York.