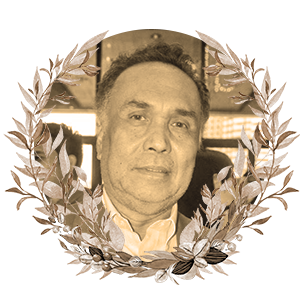 Beloved actor for stage and film. Gawad Urian winner and one of the most respected Filipino character actors
August 10, 1953 – March 26, 2020
MENGGIE COBARRUBIAS (1953-2020), full name Domingo Meneses Cobarrubias, was a well-known, respected, and beloved actor who made his theater debut in 1974, when director Behn Cervantes cast him as for a role in Ricaredo Demetillo's verse drama The Heart of Emptiness Is Black alternating with Cris Michelena as Gurung-Gurong, the lover of Kapinangan (Winnie Monsod). Cobarrubias eventually crossed over to film and TV, appearing in more than 100 productions.
He won the Best Supporting Actor Award in the 1980 Gawad Urian for his performance in the film Jaguar. He got the Best Actor award at the 2014 QCinema International Film Festival for the movie Mauban: Ang Resiko. His performance in the 2018 Cinemalaya film Kung Paano Hinihintay ang Dapithapon earned him Best Supporting Actor nominations from FAMAS and the Young Critics Circle.
With his eclectic body of work, Cobarrubias was one of the most recognizable and respected character actors in the country. His fellow thespians remember him as an Old School gentleman. (Interestingly, his first wife Marilen Martinez played Mary Magdalene in the landmark Philippine production of Jesus Christ Superstar opposite Boy Camara's Jesus Christ.)
In a Philippine Daily Inquirer tribute, filmmaker Joel Lamangan had this to say about Cobarrubias: "Isang mahusay na aktor, propesyonal, tunay na halimbawa ng katagang, 'isang mabuting tao.'" Actress Jasmine Curtis-Smith wrote in a tweet: "My heart aches. Rest in peace, Tito Menggie Cobarrubias. You were always so generous and a joy to share the set with and learn from." Cobarrubias' wife Gina Jorge wrote in a Facebook post: "Goodbye, my love. Thank you for the 30 wonderful years."
One important aspect of Cobarrubias' life was his very close friendship with iconic movie producer, singer; film, stage, and TV actress; and legendary MTRCB chairperson Armida "Tita Midz" Siguion-Reyna. When she made a bid for a congressional seat in Makati City in 2001, Cobarrubias became her close-in aide.
"He always put her in a good mood. He did such a good job, that when my in-laws were getting old na, they asked him to go along our family European trip in 2010 to Italy to assist them. Again, always making them laugh," said film, TV, and theater writer Bibeth Orteza who is Tita Midz' daughter-in-law (married to her son, Carlitos Siguion-Reyna).
After Tita Midz' husband (lawyer Leonardo "Tito Sig" Siguion-Reyna) passed away in 2010, the family went to Italy once more in the following year. Cobarrubias again joined them as Tita Midz' travel companion. As they were walking along Florence, he told her, "Tita Midz, pagsisilbihan kita. Pag sinabi mong punta tayo sa kaliwa, pupunta tayo sa kaliwa. Pag sinabi mong punta tayo sa kanan, pupunta tayo sa kanan. Aalagaan kita na parang ako si Tito Sig. Huwag ka lang magtututuro rito sa mga tindahan ng mga alahas, at iiwanan kita."
"Mommy appreciated his keeping her company, that soon as she was able to, she gave Menggie most of my father-in-law's silk shirts. He went: 'Naku, problema ito. Hindi na ako maka-casting na mahirap dito!'," Orteza recalled. Eventually, Cobarrubias did wear those shirts in a film role for Kung Paano Hinihintay ang Dapithapon (2018).
Born in Manila on 10 August 1953, Cobarrubias studied Philosophy at UP Diliman from 1974 to 1977, where he was an active member of the UP Repertory Company and the Alpha Phi Omega Fraternity. He passed away on March 26, 2020 due to pneumonia and other complications related to COVID-19. His final Facebook post was: "Goodbye."
*Very special thanks to Ms. Bibeth Orteza for providing additional information to this piece.